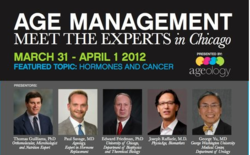 "We've gathered some of the nation's leading experts to share findings and best practices for physicians focusing on age management health care, with an emphasis on cancer prevention and treatment using hormone replacement therapy
Chicago, Il (PRWEB) March 08, 2012
Qualified anti-aging physicians, OB/GYNs, internal medicine, functional and preventive medicine, regenerative medicine, metabolic medicine and holistic MDs are invited to attend an age management lecture series addressing the role of bioidentical hormone replacement therapy (BHRT) and cancer. The two-day seminar is set for March 31-April 1, 2012 at the Hilton Rosemont Chicago O'Hare in Chicago and is hosted by Ageology, the premier anti-aging physician network specializing in the science of BHRT, health, nutrition and fitness.
"The featured topic of our first educational series is hormones and cancer," said Ageology Chief Medical Director Dr. Paul Savage, a leading bioidentical hormone therapy physician and anti-aging expert specializing in age management. "We've gathered some of the nation's leading experts to share the latest findings and best practices for physicians focusing on age management and anti-aging health care, with an emphasis on bioidentical hormone therapy, cancer prevention and treatment using hormone replacement therapy."
The bioidentical hormone therapy and age management expert panel includes: Thomas Guilliams, PhD, an orthomolecular, microbiologist and nutrition expert; Paul Savage, MD, Ageology, an expert in hormone replacement; Edward Friedman, PhD, University of Chicago, Department of Biophysics and Theoretical Biology, Joseph Raffaele, M.D. of PhysioAge, Biomarkers, and George Yu, MD, from the Department of Urology at George Washington University Medical Center.
The first day of the age management seminar focuses on male issues. Yu will offer a prostate cancer review, Savage will discuss treatments for Andropause, and Guilliams will discuss nutrition, weight loss and diets. The second day of the age management seminar focuses on women. Friedman will discuss hormone receptors and breast cancer, Savage will discuss menopause treatments, Raffaele will present the biomarkers of aging and Telomeres and TA65. At the end of each day, presenters will take part in a panel discussion on hormone replacement therapy and related issues.
Age management seminar sponsors include Diplomat Specialty Pharmacy, the country's largest privately held Specialty Pharmacy; OrthoMolecular, helping doctors become well-equipped in evidence-based, lifestyle and nutritional therapies we believe we can help transform the practice of medicine. , and LabCorp, which provides services including genomic testing, clinical trials and DNA identification.
Qualified physicians are invited to contact Paul Schweet for a complimentary pass to the lecture series. The Hilton Rosemont Chicago O'Hare is located at 5550 N. River Rd. in Rosemont. You can RSVP via email at pschweet(at)ageology(dot)com or call 312.981.4020.
About Ageology
Ageology is an anti-aging news and physician network with a mission to bring Chicago patients fresh alternatives to wellness that promotes longer and healthier living. Ageology physicians take a holistic approach to health, combining nutrition, exercise and balanced hormones to drive optimal wellness. Our anti-aging physician directory and social network equips men and women with the information to make smart wellness decisions. You can visit ageology online at ageology.com or visit us at Facebook.com/ageology.