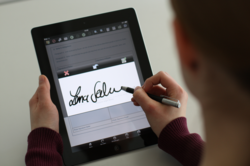 Westlake Village, CA (PRWEB) March 08, 2012
Softpro's mobile electronic signature software for the iPad, SignDoc Mobile, is now available at no charge in the AppStore. The App demonstrates the user interface of Softpro's on-the-go e-signature solution and provides access to the major features of Softpro's SignDoc Mobile software usually deployed by the enterprise.
With the free SignDoc Mobile App for iPad, users may:

Select PDF form templates.
Upload a PDF document and prepare it for signing which includes adding signature fields that can accept either an e-signature or an image.
Use the iPad camera to take a picture of the signatory or an identifying document, such as a driver's license, and inserting it into the pre-defined field.
Open a PDF document in SignDoc Mobile or from within other applications.
Email or save the e-signed form; The document can be saved locally or in a document management system.
Verify the integrity of the e-signatures with Adobe Reader.
About Softpro
The Softpro Group is a world leader in developing and marketing products and solutions for the digital capture, management and verification of signatures. Softpro's fastest growing line of business is its E-Signing solutions. Softpro produces E-Signing software that ranges from Software Developer Kits to a complete platform for Web-based signing. E-Signing solutions have proven to lower costs, accelerate business processes, eliminate errors, and protect documents against manipulation. E-Signing with Softpro is environmentally friendly and thus supports Green initiatives and corporate social responsibility programs. Contact Softpro: 1-805-496-5059.
Link to: Blog or Corporate Site.