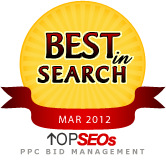 We plan to keep improving and getting to stay at the top of this list
San Jose, California (PRWEB) March 08, 2012
WordWatch claims the number one spot at TopSEOs for Best PPC Bid Management Software for the month of March. The startup scored 99 out of a possible 100 for the fourth month in a row. TopSEOs score companies based on five categories: User interface, features, effectiveness, customer support and stability with a maximum score of 20 in each. WordWatch managed to score a 20/20 in all but one of the categories.
"We're proud to be thought of as one of the best in business and we think that our continued growth and new plans and features contribute to us staying at the top of the rankings," Todd Wilkinson, CEO of WordWatch, said. "We plan to keep improving and getting better to stay at the top of this list for as long as we can."
WordWatch grabbed the top spot by beating adCore and Kenshoo by one and two points, respectively. TopSEOs release their rankings once at the beginning of each month and has been an independent authority on search companies since 2002.
About WordWatch:
Founded in 2009, WordWatch is an online AdWords bid management application designed for small business advertisers, marketing consultants and freelancers, and small agencies. The application simplifies the daily management of keyword bids and constantly optimizes a customer's AdWords account. WordWatch has offices in San Jose, Amsterdam and Krakow.
Related Links:
http://www.wordwatch.com
http://www.topseos.com/evaluation-criteria/best-ppc-bid-management-companies