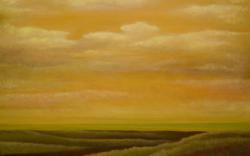 Seattle, WA (PRWEB) March 08, 2012
The art and architecture of Seattle architect Scott Allen will be featured at two upcoming events showcasing the region's best: the Seattle Art Museum (SAM) Gallery's annual Introductions 2012 show and the Seattle Tour of Architects.
"As an artist and an architect, my hope always is for people to positively react and respond to my work, whether it is one of my paintings of one of my designs," said Allen. "Having my work featured alongside the many talented artists and architects that will be featured at the SAM Gallery show and on the Tour of Architects tour is a real honor."
The Artist
Allen's fine art, including his vibrant "After the Rain Came," will be on display at the SAM Gallery's Introductions show. The exhibit will be on display from March 8 – April 7, 2012. Allen's oil paintings, primarily landscapes, often evoke his Eastern Washington roots. His work has been shown at The Gallery: Bainbridge Arts & Crafts, The Graves Gallery at Wenatchee Valley Community College and numerous other venues. The SAM Gallery show marks Allen's introduction to the Seattle art scene.
In addition to Allen, other featured artists include Susanna Bluhm, Matt Calcavecchia, Ellen Goldschmidt, Kathy Liao, Elise Richman, Kristie Severn and Todd Smith. The SAM Gallery is located in the Seattle Tower Building at the corner of 3rd Avenue and University Street in downtown Seattle.
For more information about the show visit http://www.seattleartmuseum.org. For additional images of Scott Allen's artwork, please visit Scott Allen Architecture.
The Architect
As an award-winning architect, Allen is known for crafting innovative designs that take the "chill" out of contemporary architecture and results in house designs and civic spaces in which people love to live, play and work. Two of his residences have been chosen for the Tour of Architects, which this year has expanded to a four-day event spanning two weekends, March 17 & 18 and March 25 & 26, 2012. Allen's work has been featured in numerous design publications including Architectural Digest, Seattle Metropolitan (March 2012 issue), DOMUS China and Trends.
Featured on the first day of the tour, Saturday, March 17, from 11 a.m. – 4 p.m. is Allen's Cliff House. The home offers a unique design solution conceived to fit the program and design aesthetic of the homeowners within the small footprint limited in its size by an agreement through a regulatory process. The residence received First Place, Outdoor Living, at the Northwest Design Awards 2006. Scott Allen was the Principal Designer and the project was undertaken during Allen's tenure as a named principal at OSKA.
Located in Issaquah Highlands' prestigious Harrison Street neighborhood, Allen's Harrison Street Residence will be featured on weekend two of the tour on Sunday, March 25, from 11 a.m. - 4 p.m. The Harrison Street Residence features a grand vaulted space, which houses the living, dining and kitchen areas. This space forms the heart of the house and captures breathtaking north, south and west views. In addition to sustainable design features and systems, the home is designed for long-term living with the placement of the main living areas, master suite, office, and laundry room on the main level. The design for this project was started by Scott Allen, principal in charge, at OSKA and recently completed by Scott Allen Architecture.
For ticket and tour information please visit http://www.TourofArchitects.com. For more information about Scott Allen Architecture visit Scott Allen Architecture.
# # #