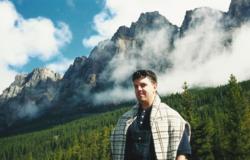 An author uses writing to express the yearning of his or her soul. While the project may not be autobiographical, it often contains constructs of his or her life experiences.
Sacramento, California (PRWEB) March 12, 2012
In 2000, the writing team of Lawrence Pitchford and Kenneth Fay broke into the fledgling eBook landscape with an irreverent and somewhat disturbing story about intrigue and deception in the court of Queen Elizabeth I. Soon after, the team disbanded and the two authors vanished from the industry.
Now, with a new and improved name, Lawrence (now Lawrence BoarerPitchford) has again shown that good story telling makes for excellent fiction with his short story series entitled In the World of Hyboria and his fantasy novel The Lantern of Dern Blackhammer.
Recently Lawrence was asked about the creative process and stated, "An author uses writing to express the yearning of his or her soul. While a particular project may not be autobiographical, it often contains constructs of his or her life experiences." When asked about publishing he commented, "Getting a novel published is not easy. If you think it is, you're in for a grave disappointment. But, there is this amazing movement happening in the industry, the self-publishing revolution. Before, eBooks followed the classic publishing model of writer, literary agent, publisher, book distributor, sales, and finally, return on investment a.k.a. royalty payment. Now, one person can do the work of the first three, and if they're really motivated, of all six. Recently, I bypassed the traditional path of publishing by signing on with Amazon's Kindle Direct Publishing (KDP) service. This has made it possible for me to avoid the political and business bias that exists in the old publishing guard. With this move, I take the risk myself that my work may not be marketable. Previously, a literary agent might say, 'I can't sell this,' or a publisher might say, 'No one will buy this,' and the depressed author must then try another literary agent and/or publisher. Now, the would-be author can take his vanity and optimism directly to the public. This is not without risk though. There is a lot at stake such as reputation, and likability. The lone author does not have the support that is offered by an agent or publisher. Although the traditional publishing path has its benefits, I'm excited to sign on with Amazon KDP and get my work into the hands of the public. Check out my website, http://www.boarerpitchford.com or visit http://www.amazon.com and type my name into the search engine if you are interested in seeing what one author can do when properly motivated."
Through his short story series, In the World of Hyboria, Lawrence pays homage to Robert E. Howard's classic tales of barbarians and magic. Set in Howard's Hyboria, Lawrence presents the reader with fresh characters delivered in a Howard-esque style of barbaric brutality and danger. He states, "My intention is to provide the flavor of Howard's original works while contributing to the body of work that Howard created." Also, his sword and sorcery fantasy novel, The Lantern of Dern Blackhammer, shows that the sword and sorcery genre is not dead. Lawrence paints his story with a dash of nineteenth century Europe, adding in classic scenes, and invigorating the reader with emotionally driven characters who are believable and archetypical. It is a pleasure to read such fresh works by this re-emerged talent.
Lawrence lives and writes in California. His works can be found on http://www.Amazon.com and samples of his writing can be found on his website. To find out more about this author and his works, please visit his web site at http://www.boarerpitchford.com .