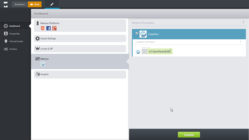 Roar closes the loop for developers by providing them with simple ways to take immediate action based on the insights gained from Claritics. It's the sort of thing that only companies like Zynga have had access to in the past...
San Francisco, CA (PRWEB) March 08, 2012
Claritics, the leading User Intelligence solution for social and mobile app developers, and Roar Engine, the complete, cross-platform social virtual goods platform, announced today a new partnership and product integration to bring improved analytics and user behavior insights to social game developers.
Developers can now sign up for a free roar.io account, which includes all of the integration points to Claritics analytics at both the client and server levels. Claritics then captures and presents game related data, and roar.io makes the data actionable through a virtual goods management platform powered by game mechanics and monetization tools.
"We integrated Claritics on both the front- and back-ends so that every important game event is tracked for developers and collected automatically," said Clint Walker, Founder and CEO of Roar Engine. "Game developers know that they need analytics but are so busy building their game that it's the last thing they consider, if at all. Now it's done for them, by Claritics, out of the box."
"We are excited to see our analytics tool so tightly integrated with Roar Engine's leading development tool," said Raj Pai, Founder and CEO of Claritics. "Roar closes the loop for developers by providing them with simple ways to take immediate action based on the insights gained from Claritics. It's the sort of thing that only companies like Zynga have had access to in the past, but now we've integrated to level the playing field for everyone else."
As developers manage their game from within the roar.io configuration interface, the Claritics analytics dashboard is available to visualize data collected from game interactions. User data can then be used to improve acquisition, engagement and monetization strategies and channels by adding and refining game mechanics, virtual goods, advertising, offer walls and distribution services.
"We've built the Claritics dashboard right into the roar.io configuration UI for a reason," said Mr Walker. "Claritics shows you that a particular type of item is monetizing well and, in the same interface, roar.io gives you the tools to maximize your revenue. And, our customers don't need to do anything. Claritics is already integrated into your game on both the client and server side. No new code, no new submissions to app distributors, no headaches."
"This is the first time that game developers outside of the top few have had this sort of analytics power available," said Mr Pai. "We capture the data, provide the insights and give you the tools to make major improvements in acquisition, engagement and monetization without the massive amount of development time and investment normally required."
roar.io will be demonstrated at the Claritics booth today in the Game Developers Conference (GDC) Expo Hall at the Moscone Center in San Francisco, California. Developers signing up for a roar.io account at GDC have the chance to win $1,000 towards roar.io services.
About Claritics
Claritics is the leading User Intelligence platform that improves user acquisition, engagement and monetization campaigns for social and mobile application developers. Claritics uses data-rich analytics to help its customers gain immediate, actionable insights into user behavior. The company's cloud-based analytics platform can be implemented with little to no IT resources and delivers easy-to-understand, pre-packaged, domain specific reports that can also be customized in order to suit any customer's needs. Headquartered in Mountain View, California, the company works with popular app developers including TheBroth, Gamester and many others, tracking more than 20 million active users each month. Claritics is venture-capital backed and led by a seasoned management team with deep expertise in social media marketing and big data analytics. For more information, visit http://www.claritics.com.
About Roar Engine
Roar Engine, Inc. is a wholly owned subsidiary of privately held Australian company, Run With Robots Pty Ltd. The company was founded in December 2008, as a social game development studio, by Clint Walker and Dr Michael Anderson after exiting their previous company, Rising Sun Research. The founders pivoted in 2010, leveraging the server infrastructure they'd built for cross-platform games and their experience building server based production tools, to create Roar Engine, a configurable web API for building cross-platform social game backends. Roar Engine is currently in private beta, with over 1,500 registered developers, powering games by Neon Play, The PRA/Halfbrick, and Hive Media. Sign up for roar.io at http://admin.roar.io/.