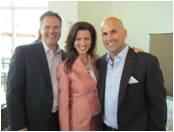 Carlsbad, CA (PRWEB) March 07, 2012
At this critical time The SCENE (Socially Conscious Education Network for Entrepreneurs) created by CompassionHappens, Inc. of Vista, CA is pleased to announce its joint venture partnership with Scott Duffy to help Social Entrepreneurs get to the top of their industries and make the world a better place.
"Working with Scott, is a smart business decision for anyone who cares about being the best and staying the best in this ever changing business landscape of today," said Jerry Conti, CEO of CompassionHappens, Inc. "I've spoken with thousands of people who are working too hard, spending too much, saving too little, and worrying excessively about their financial security. Our affiliation with Scott will provide an answer to these challenges for hundreds of thousands of Social Entrepreneurs," said Conti.
The SCENE is here to help people become successful Social Entrepreneurs. People can work hand in hand with the experts in The SCENE to launch a profitable socially conscious business that has a positive-global-environmental impact and a positive-personal-financial impact. To learn more about Scott Duffy and this inspiring opportunity to work with him personally, visit http://www.scottduffy.com
The joint venture partnership between Scott Duffy and The SCENE can transform the personal financial situation for people everywhere. The SCENE features top trainers, teachers and thought leaders in the Conscious Business movement. Members have access to a world of ideas, tools, resources and community all designed to make business ownership a reality for them.
ABOUT COMPASSIONHAPPENS & THE SCENE:
CompassionHappens is a dynamic and innovative Internet Marketing Company whose mission is to inspire individuals to become Conscious Entrepreneurs. The SCENE provides training, tools and resources that assist socially conscious businesses to solve social and environmental problems while manifesting personal and financial freedom.
CompassionHappens...When Business Makes A Difference.
Driven by a strong desire to operate a conscious business, co-founders Jerry and Jessica Conti started CompassionHappens to give socially conscious entrepreneurs opportunities and support in the marketplace. "We found, after building several businesses ourselves that the key to genuine success transcends, yet still includes, the profit motive." says Jessica Conti, President of CompassionHappens. "A fulfilling business, by our definition, is one that has a healthy bottom line, of course, but also gives back to its community, its environment and its people. We believe in the sustainability of businesses created according to these principles," says Conti.
ABOUT SCOTT DUFFY:
Scott Duffy is a high energy, serial entrepreneur, and executive. Most recently, Scott created and launched Smart Charter, an online booking tool that makes it easy to buy and sell trips on a private jet. The company is often referred to as "Expedia for private aviation". Mr. Duffy sold the company to Richard Branson's Virgin Group. The company was re-branded as Virgin Charter and named "One of Fifteen Companies That Will Change The World" by CNN Money. Prior to Virgin Charter, Mr. Duffy was a key member of several high profile media and technology companies. He was an Executive and Early Stage Manager at FoxSports.com, NBC Internet, CBS Sportsline, and Quote.com, where he led teams through their start up phase, fundraising, mergers and acquisitions, and initial public offerings. Scott started his career working with best-selling author and speaker Anthony Robbins. Scott is a passionate advocate for entrepreneurs and entrepreneurship. He is a Board Member of the Entrepreneur Organization, and a highly sought after speaker, strategist, and coach. He has appeared in numerous media outlets including CNBC, FOX News, The Wall Street Journal, and Business Week. Scott currently lives in Southern California with his wife and two children.
Scott Duffy
1-800-401-9171 ext 703
Info (at) CompassionHappens (dot) com
http://www.ScottDuffy.com
"The H.O.M.E. Foundation Proudly Supports Compassion Happens"
About The H.O.M.E. Foundation:
The Helping Others Means Everything, or The H.O.M.E. Foundation, is a not-for-profit organization dedicated to helping our Family of Charities. Frank Verdugo, President of The HOME Foundation, wants to help as many worthy charities as possible as they struggle during these tough economic times. Frank Verdugo helps raise funds through luxury dream home raffles, prizes, and high profile celebrity events in Hollywood... "Our mission is to help charities reach their fundraising goals and to bring awareness to their praiseworthy causes." Please visit our Dream Home Raffle at: http://www.HOMEFoundationRaffle.com and http://www.facebook.com/HOMEFoundationRaffle.
# # #