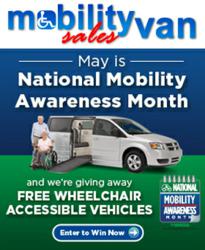 More than 52,000 wheelchair van buyers use our services each month making us NMEDA's top partner with the leading wheelchair van sales site in the USA
(PRWEB) March 09, 2012
Mobility Van Sales will help spread the awareness of the National Mobility Equipment Dealers Association via their extensive wheelchair vans sales advertising network at MobilityVanSales.com.
Mobility Van Sales is proud to support and be part of the National Mobility Awareness Month to be celebrated in May.
"Mobility Van Sales is delighted to be participating in the awareness month activities and promotion," said Jackie Austin, Mobility Van Sales Head of Public Relations. "More than 52,000 wheelchair van buyers with mobility issues use our services each month in the U.S. and Canada. Mobility Van Sales has a continuing commitment in raising awareness of mobility solutions available to caregivers and people with disabilities."
The National Mobility Awareness Month promotion will invite "Local Heroes" with disabilities to share their challenges and success stories on how they overcome mobility issues and lead an active lifestyle. The promotion is designed to raise awareness of mobility transportation options available for caregivers and people with disabilities.
"Local Heroes" will submit their stories to MobilityAwarenessMonth.com. Visitors to the website will be able to vote for their favorite hero. NMEDA will give away three wheelchair accessible vehicles, to the winners on a national television show.
About Mobility Van Sales Mobility Van Sales.com, formed in 2006 has been the leading force online in providing highly targeted leads and exposure to wheelchair vans for sale by private sellers and NMEDA mobility dealers. Mobility Van Sales was established purely as a niche sales site for care providers and disabled drivers. Six years later the website is a fine-tuned sales funnel that efficiently facilitates customers looking to research, sell and buy their next wheelchair accessible vehicle. With the resources, technology and worldwide distribution network required to compete on a global scale, Mobility Van Sales alliance builds on the pure culture of innovation that ensures mobility challenged people can enjoy the freedom they deserve.
Headquartered in Adelaide, South Australia, Mobility Van Sale's product line-up features mobility dealers with the USA's most recognizable wheelchair vans, including the brands Toyota, Honda, Dodge and Ford. Mobility Van Sales contributes world-class technology platforms for small and medium-size NMEDA mobility dealerships, allowing Mobility Van Sales to offer an expanded product line for wheelchair accessible vehicles.