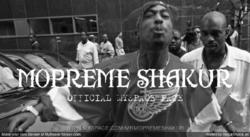 Parnell Gervais, Tille Blue representation stated that, "This record was a great way to bring together great artist from 2 different coasts and add a great international star to make a hit record."
Los Angeles, CA (PRWEB) March 08, 2012
As beautiful and versatile as Kate Moss, but known for being in Surfers Journal and Surfer Magazine, supermodel Tille Blue announced today that she teamed up with Rappers Mopreme Shakur and Fred the Godson to create "Lose Control" a dance club track. Tille Blue's management's (Gervais Management) vision was to tie up street culture and mainstream lifestyle from East Coast-West Coast. They did it with the combination of artists who recorded "Lose Control." Rapper MoPreme Shakur, with the Iconic West Coast Family, Pac's Brother, OutLaws to Fred the Godson East Coast Boogie down Bronx is a bona fide superstar. Fred has done hit records ft. Jadakiss to the man that owns the key to the City of New York. Fred is also starting a tour in Europe and ending in Japan. He has over 30,000 Twitter.com followers at: @FredtheGodson that are from all four corners of the world.
Parnell Gervais, Tille Blue representation stated that, "This record was a great way to bring together great artists from 2 different coasts and add a great international star to make a hit record." Parnell, a serial entrepreneur, is bringing back his industry website (whatspoppin.net) sometime in April. "Lose Control" is playing from NY Power 105.1 (The Bronx Bomber Dj Will), at Stephan Morris, Ocean Style Magazine Pool Parties (RXPoolparties.com) at the Shelbourne in Miami to clubs in Los Angeles "All Night Long." MoPreme, no virgin to the music game or the lime light, has shown his versatility in the record.
"If you don't know the voice yet, you know the face," says Pramo Virk Mahvrick. Tille Blue is know as a surfer, actress, model, she has been in films such as "Executive Decision," "Nemesis," "The Huntress," "One Man Force," and she played Jackie O in the European television film "JFK." Worlds collide in the "Lose Control" music video, which is being filmed in Los Angeles in the next two weeks. The video will have cameos from featured guests from both the music and modeling world. Tille has appeared in TV shows also such as "Star Trek," "Babylon 5," to "Married With Children." She is known for television commercials for Pepsi, Coca Cola, Diet Coke, Lipton Tea, Budweiser, Budlight, Coors Light, Chevrolet, Toyota, Mercedez Benz, Pontiac, UPS and the Gap. The list goes on. Tille Blue's modeling contracts with recognizable names that include Adidas, Nike, O'Neill, Billabong, Quicksilver and Harley Davidson.
Now, Tille Blue is conquering the music scene. "I say that Tille Blue as Princess Swag," says Mahee, who reunited with MoPreme through working on the project for Parnell Gervais, Gervais Management Group. "Tille Blue is a proven star. In everything she does. She has it in her to perform, so transcending from surfing to music should not be an obstacle," says Parnell Gervais Tille Blue's music manager.
Rapper MoPreme entered the major music game with songs on a RIAA Gold Album "Thug Life" and has continued to produce music and film all around the world. The collaboration with Tille Blue brings the street edge to a face of global mainstream brands. "I remember sitting with MoPreme and Interscope Records' former owner, Ted Fields (which signed Tupac Shakur and Eminem under partner labels in the mid 90s) in the VIP section of a club/lounge in LA... I was anxious to see the handshake and nod of respect from Ted, I wanted to see the acknowledgment. Ted sold the record label to Jim Iovine for hundreds of millions of dollars on the backs of Tupac and Eminem. Those are moments that people don't get to see or know about, but would appreciate and respect. I did," says Richard Victor Mahee. Mahee spent many occasions with the Shakur family over the years.
Mahvrick Networks distributes press, music and television worldwide. The network owned by Richard Victor Mahee "mahvrick," his name backwards, has committed to donate a majority of his earnings and time to charity over the next 3 years. Mahvrick Networks has reach into 210 television markets and distributes news into 50 countries worldwide daily (http://www.mahvrick.com) and @mahvrick.
(mahvrick networks)
###