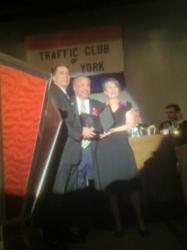 I love our neighbor Canada, they're our best ally…they've always been on our side!
Manhattan, NY (PRWEB) March 08, 2012
The organization of logistic professionals in New York, Traffic Club of New York (TCNY), awarded New York Private Investigator Bo Dietl the outstanding professional achievement award presented to him by President Lucy Ambrosino in New York last month. The award recognized Bo for his years of exemplary service in protecting the ingresses, egresses and waterways of New York City as well as providing security services for many of the major companies based in New York City.
TCNY acknowledged Bo Dietl for his outstanding efforts in protecting the vital arteries that allow commerce and logistics to thrive in New York City. Bo's company, Bo Dietl and Associates has been providing security services to many of the major companies operating in New York for over 20 years.
The TCNY has been in existence since 1906. It is a professional organization of logistics professionals in the maritime, intermodal, rail, motor carrier, port, warehousing and allied distribution fields. Membership is made up of manufacturers, executives from the freight forwarder, steamship, rail, intermodal, consulting, freight brokerage, port, NVOCC and legal professionals who deal with the logistics industry on a daily basis. Members come from throughout the United States, Canada and Europe.