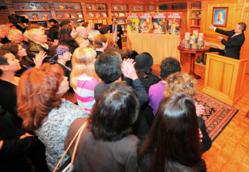 They're really an enjoyable listen whether you're in the car on in a plane. It's a great way to pass the time.
Hollywood, CA (PRWEB) March 08, 2012
Emmy award winning actor John Mariano (Animaniacs, Sopranos) along with Travis Oates (Piglet in My Friends Tigger & Pooh) and Robert Towers (Curious Case of Benjamin Button, Doctor Doolittle) were on hand Saturday night to help celebrate the release of the next four titles in L. Ron Hubbard's Stories from the Golden Age, following their performance in the Golden Age Theater.
Mariano, who has helped record several of the audiobook editions of these stories as well, stated about the audio releases, "They're really an enjoyable listen whether you're in the car on in a plane. It's a great way to pass the time."
Travis Oates, also speaking about the audiobook editions of the stories, commented, "These books have a soundscape that the other audiobooks don't. That's why I call them audio plays." He continued that it this style of production, "which brings the whole feel of the L. Ron Hubbard stories more vividly to life."
Robert Towers, on Hubbard stated, "I would call him a renaissance man in the sense he was accomplished in so many fields and he put that all into his stories. There's always an authentic basis for everything in that." And when commenting on the stories themselves, he concluded, "I guess you can call it educational, but I'd call it a lot of fun."
Stories from the Golden Age is a line of 80 volumes comprised of 153 stories written in the 1930s and 40s, considered America's Golden Age of storytelling. These stories were written by L. Ron Hubbard in all the popular genres ranging from science fiction and fantasy, to mystery, thriller and adventure, to western and even romance using his own and 15 different pen names. They are being produced as both trade paperback as well as unabridged multicast audiobook.
Trouble on His Wings (Galaxy Press, $9.95 book or audio)
It was Hubbard's experience as a pilot that made the first title, an air adventure, so thrilling. A DC journalist for The Pilot magazine in July 1934 reported, "…the flaming haired pilot hit the city like a tornado a few years ago and made women scream and strong men weep by his aerial antics. He just dared the ground to come up and hit him… Ron could do more stunts in a sailplane than most pilots could do in a pursuit job. He would come out of spins at an altitude of thirty inches and thumb his nose at the undertakers who used to come out to the field and titter."
Trouble on His Wings is a thrilling air-adventure story about pilot Johnny Brice, a hard working and successful "picture-chaser" and top dog reporter until he meets the pretty girl Jinx. And no matter what he does, things just keep going wrong.
Hell's Legionnaire (Galaxy Press, $9.95 book or audio)
The French Foreign Legion story, Hell's Legionnaire, is about American Dusty Colton who is fleeing the Legion to escape a harsh prison sentence only to rush headlong into a Berber tribal lair. Despite his long odds against a successful solo escape, he can't leave a captive American woman—who happens to be very beautiful—behind and must find a way for them to outrun the Berbers and the Foreign Legion.
Death Waits at Sundown (Galaxy Press, $9.95 book or audio)
Death Waits at Sundown is pure western adrenaline, Hubbard style of course, about Lynn Taylor, a hard-riding, two-fisted Texan who isn't interested in depriving the town of Pioneer of its necktie party—another name for a lynching—he just wants to save his wrongly accused brother and substitute the real culprit.
Mouthpiece (Galaxy Press, $9.95 book or audio)
In 1934 L. Ron Hubbard was the youngest-ever president of the New York Chapter of the American Fiction Guild. To promote more accurate use of factual detail in detective and mystery fiction, he invited the coroner to share his professional expertise with Guild members over lunch. Hubbard recounted, "They would go away from the luncheon the weirdest shades of green." In later years, and to enlarge his range of study, Hubbard became a special officer with the Los Angeles Police Department.
Mouthpiece is a murder-mystery about Mat Lawrence, the engineer son of a murdered gangster who enlists the "help" of his father's fast-talking criminal attorney—referred to as a mouthpiece—and stalks after the murderers and a million dollars gone missing. A sure recipe for bullets, lies and bedlam.
For more information on the Stories from the Golden Age, go to http://www.GoldenAgeStories.com or find is on Facebook at Golden Age Stories. Available for pre-order at Amazon.com and BN.com.