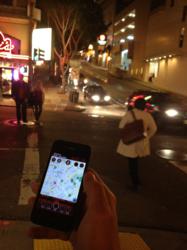 Play Duskfalling in the 18 second wait to cross the street.
San Francisco, CA (PRWEB) March 09, 2012
Duskfalling was designed for iOS and Android and the new iPad3. When asked about his experience at GDC 2012, Raincrow's Executive Producer, Travis Fox said, "We're pleased with the launch, and the game is performing as desired. We're seeing organic clan growth; there's great buzz among the players and the reception at GDC has been phenomenal."
Xerxes Mullan, CEO of Xerces Technologies, commented, "The Duskfalling player experience represents the next generation of mobile games. The appetite for location based, player versus player apps right now is red hot and we've gone a step further to include Augmented Reality (AR) backed by a powerful narrative and compelling story."
The game play is aimed at the social-casual crowd; you don't even need to like vampires to enjoy the game play. The mission is hunting down weaker players, avoiding stronger players and building a clan for protection and rewards. It's truly a suspenseful experience, with an ever-changing field.
About Raincrow Inc.
Raincrow Inc. is a collection of writers, gamers, and consultants, in search of "the next big thing" regarding technology fused with creativity. "V: Duskfalling" is Raincrow's debut into the mobile gaming world but is backed by years of successful ventures in other forms of media and design work. http://www.raincrowgames.com
For live updates, please follow Raincrow via Twitter @raincrowgames or become a Duskfalling fan at http://www.Facebook.com/Vduskfalling
About Xerces Technologies
Xerces Technologies is a leading mobile application and game development studio since 2005. As market leaders Xerces provides solutions for high end mobile games and applications development. Xerces has a combined experience of over 15 years working in the creative and entertainment industry and enjoys working with a full portfolio of household brands.