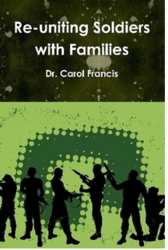 Let's not leave our soldiers and their families on the ledge. They each need support and sound help.
Los Angeles, CA (PRWEB) March 14, 2012
Multiple organizations now coordinate interventions aimed to help soldiers and their families adjust to the changes that deployment has created for each member of the military family. Military.com is one site that delineates organizations reaching out to these affected brave and self-sacrificing individuals.
As part of support offered to our military families, Dr. Carol Francis is providing her book to be used by military families so they can traverse through their difficulties optimally.
In her book "Re-Uniting Soldiers with Families" discusses the pragmatic attitudes, words and changes which soldiers, spouses, children, parents, communities and employers need to take in order to help returning soldiers re-integrate back into society.
"Facing the horrors and heroics these soldiers have had to endure is not easy. Added to these memories, regrets, worries, nightmares and losses, the soldier now must feel the oddity of returning home to a community and family who know nothing about the life as a fighting soldier," explains Dr. Carol Francis.
Psychologist Dr. Carol Francis further addresses that "returning home to big grocery stores, fast food, intense technological indulgences, or ridiculous whining over trivial matters becomes hard for a soldier who has helped individuals in third world countries or war torn battle arenas. These reactions are reverse culture shock. Their own country feels strange."
In addition, "Some soldiers feel more alive, meaningful and connected to true friends when they are serving within the military. Returning home can feel like losing a meaningful identity, true friendships or the extreme exhilaration of the fight," adds Dr. Carol Francis.
This book, "Re-Uniting Soldiers with Families" addresses many of these issues and can be ordered as an e-book, hardback or softback through this link: http://www.lulu.com/product/paperback/re-uniting-soldiers-with-families/14935356. Dr. Carol Francis discusses this book further at RelationshipSuccessNow.com