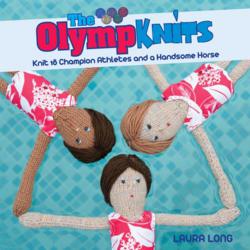 The most fun I've had with 2 balls of wool in a long time… Super! Stupendous
Phil Sportsman
(PRWEB UK) 10 March 2012
Scenes of crowds dressed in red, white and blues have been captured forever on the the world's TV screens as the torch makes it's way through the streets of Great Britain. As this summer's athletic clock ticks to the final hour the excitement in the crowds is growing. But not all Olympknit stories have a happy ending. The Olympknits, a youtube video based on the popular book with the same title, The Olympknits by Laura Long has recently made the headlines. The video, deemed as possibly too hot for TV is growing in popularity, regardless of the critics new rating.
The YouTube video, directed by Alan B. Baker, creator of other knitted films such as Knit the Royal Wedding, has some extreme and shocking wooly scenes of nudity including a streaker and a diver that looses his trunks.
When asked about the X-rated scenes, Mr. Baker said "No Comment". The media attention has been overwhelming for the director. If you do wish to view The Olympknits Video you should watch at your own risk. Watch the Video Here.
In other news: world-wide competition with prizes can be won at http://www.olympknits.com. One lucky person (and very lucky guest) will win a two-night stay at the beautiful four-star Rubens at the Palace Hotel, a member of the Red Carnation Hotel Collection, which lies at the heart of London's biggest tourist attractions with views of Buckingham Palace and St James' Park, Westminster Abbey and the Houses of Parliament just a short walk away. No knitting necessary!
Join Phil Sportsman and all of the knitted athletes on http://www.olympknits.com and get involved in the game! Plenty of freebies available for download on the site as well as a shop, gallery and even a knitted celebrity contest. On your marks, get set...