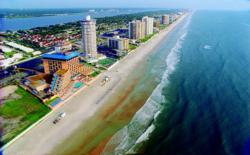 (PRWEB) March 08, 2012
College students who are planning to celebrate spring break in Daytona Beach better get their credit cards ready. If they haven't already booked and paid for their hotel room, they're in for some serious sticker shock. According to a new survey conducted by OrlandoHotels.org, hotels in this central Florida coastal town are increasing their rates by as much as 272% for the prime spring break week of March 12–18.
With less than a week to go until the spring break partying gets underway, approximately 80% of hotels are already sold out. Eleventh-hour spring breakers, however, can choose from among 30 hotels that are still posting room vacancies. They'll pay dearly for their procrastination, though, with these few remaining establishments increasing their rates by 165% over their regular rates.
Some Daytona Beach accommodations are jacking up their rates much higher than that even. A good case in point is the Dream Inn. This beachfront property located in Daytona Beach Shores usually goes for $64 per night, but during the spring break week, rooms have skyrocketed to a nightly rate of $208. That figure represents a 225% price increase.
The Super 8 in downtown Daytona Beach is taking advantage of last-minute spring breakers even more. For the week of March 12–18, the hotel is charging $231 per night versus its regular $62 rate, for a whopping 272% rate hike.
Other Daytona Beach hotel owners aren't cutting spring breakers much slack either. The cheapest available room is currently going for $178 per night. Even the neighboring seaside towns of Ormond Beach and Palm Coast have no available rooms for less $150 per night. To score a place to crash for under $100, a 30-minute or more drive outside Daytona Beach to Titusville or Deltona is required.
The following table shows the ten Daytona Beach hotels with the biggest rate increases over the spring break timeframe. The percentages indicated are based on a comparison with regular rates.
1. Super 8 Daytona Beach $231 (+272%)
2. Dream Inn A 3 Palms Hotel $208 (+225%)
3. Days Inn On The Beach South $194 (+208%)
4. Quality Inn – Daytona Speedway $222 (+188%)
5. Beach Quarters Resort Daytona $272 (+186%)
6. Tropical Winds Oceanfront Hotel $276 (+181%)
7. Hampton Inn Daytona Shores $272 (+160%)
8. Plaza Ocean Club $205 (+159%)
9. Best Western Plus Aku Tiki Inn $260 (+140%)
10. The Shores Resort & Spa $329 (+113%)
For more information about this survey, visit http://www.orlandohotels.org/press/spring-break-2012.html