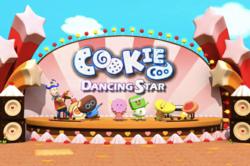 CookieCoo Dancing is so entertaining, children won't realize how educational it really is!
Seoul, South Korea (PRWEB) March 08, 2012
ThinkCube's CookieCoo Dancing Star is a new rhythm game for iPhone, iPod Touch, and iPad full of features for entertaining little ones.
Well-known, popular children's songs like Hokey Pokey, Miss Mary Mack, I Can Sing a Rainbow, and many others form the foundation for the game's rhythm based game play. Children can sing along as they tap out the beat of the songs in time with the dropping musical notes, while watching one of the game's quirkily adorable characters dance to the tune.
Each song pack offers enormous replay ability for kids. In addition to striving for three stars, children can choose the difficulty level for each session, as well as which musical instrument they want to play along to the music with. They can also choose which of the five characters will accompany their endeavors with dance. The three-song pack included with the initial download of CookieCoo Dancing Star can provide little superstars with hours of play, as they seek three-star glory for each song. CookieCoo Dancing Star comes with three educational classics included: Hokey Pokey; Heads, Shoulders, Knees and Toes; and This is the Way We Wash Our Face. There are many additional song packs available for in-app purchase.
The game's three levels of difficulty make it appropriate for a broad range of abilities, and help children work their way up to more challenging play without frustration. And the delightful art direction behind CookieCoo Dancing Star provides an imaginative visual stimulation. CookieCoo Dancing is so entertaining, children won't realize how educational it really is!
CookieCoo Dancing Star is available for download now in the iTunes App Store for $0.99 and compatible with devices running iOS 3.1 or later.
Features:
*Child-friendly interface
*Watch mode for those who aren't ready to play along yet
*Easy, Medium, and Hard difficulty levels
*Friendly, positive feedback—no frustration!
*Children choose from three different "instruments" to play each time they start a song
*Children can pick their favorite CookieCoo dancing star to dance and sing while they play, each time! There are five to choose from!
iPhone: http://itunes.apple.com/us/app/cookiecoo-dancing-star/id489072048?mt=8
iPad: http://itunes.apple.com/us/app/cookiecoo-dancingstar-hd/id495611023?mt=8