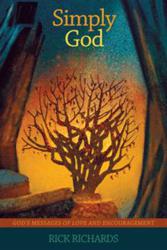 THURMAN, Ohio (PRWEB) March 09, 2012
Author Rick Richards introduces his new book "Simply God: Gods Messages of Love and Encouragement" (published by WestBow Press) as "… no ordinary book. It has no beginning, middle, or end. The first 10 chapters are telling us what we need, to be children of God and be like Jesus. The last 14 chapters are single devotionals, which are God thoughts; to love and encourage his children to finish the Great Commission."
Unlike pastors and evangelists, who Richards believes are forced to rush toward ideas and plans designed to get their listeners to "change their lives now!" rather than contemplate change, Richards ask readers to remember that equipping and preparing means giving one the tools of the trade. "That is living God's Word and how to plan to do this. The Word teaches that pastors are to equip the servants. All that time convincing and not equipping is destroying God's world. Jesus equipped and encouraged God's children and changed the world. What is our excuse?"
Richards is certain, despite his own past mistakes, of God's presence. "I ran a motorcycle into a house. I hit headfirst at 60 mph and never broke a bone or had a bruise. God was there. In a car accident that left nothing of the jeep I had no broken bones or a cut or bruises. God was there. I fell 18 feet off a ladder onto my head and heard my neck snap. God was there."
Richards believes everyone needs to divert all their mental and physical abilities to become like Jesus. "It is not luck that gets us through suffering and hard times," he says. "Luck is an imaginary thought process that makes your mind a slave for pleasures you may not receive.
About the Author
Rick Richards lives on an orchard in southern Ohio with his wife of 41 years. They have two kids and two grandkids. Richards struggled for many years trying to understand God's plan for reaching the kingdom. He knew that the Word was the answer, and God had to make it simple. Richards was saved when he was 12, and he knew who God was, but at 18, he was lost and confused. He had no idea what he wanted to be. God finally sat him down the hard way and gave him two choices. Richards has been writing God's messages for more than 20 years and never knew why until now.
WestBow Press is a strategic self-publishing alliance of Thomas Nelson, Inc., the world's largest Christian publisher, and Author Solutions, Inc. (ASI) — the world leader in the popular self-publishing industry segment. Through this partnership, authors benefit from the rich publishing heritage of Thomas Nelson and the speed-to-market advantages of the ASI self-publishing model. Titles published through WestBow Press are evaluated for sales potential and considered for publication under the Thomas Nelson imprint. Thomas Nelson, Inc. continues to "inspire the world" with distribution of products in more than 100 countries worldwide. For more information, or to start publishing today, visit http://www.westbowpress.com or call (866)-928-1240. Follow us @westbowpress on Twitter for the latest news.