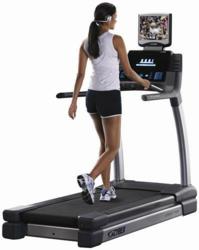 Health clubs at home are glad that so many people are seeing the huge array of benefits that can be gained from using commercial fitness and gym equipment at home; saving people time and money
(PRWEB UK) 16 March 2012
The benefits of working out at home are clear. Less self-conscious, more willing to work up a sweat and the ability to jump right in. So why not mix this with commercial equipment, such as Treadmills, as part of your home gym set up? Doing this makes the perfect stage for a successful and stress free home workout.
Managing Director Howard Braband has created the platform that can make this possible. For 10 years his award winning company has offered people the chance to work out from home. This is with a range of both new and refurbished commercial fitness equipment.
One of the most popular pieces of equipment is the Treadmill; 'We have a huge range of Treadmills for sale that have come from commercial backgrounds' Howard says, 'not only that, but we have staff that have knowledge and experience too. This makes sure that our customers have all the facts and figures. Ultimately, this helps to make informed decisions about the Treadmills that are brought. Experienced staff also offer some workout plans and tips that will get you off to a flying start.'
Everyone will have different tastes when it comes to Treadmills. It is safe to say that Health Clubs at Home can cater for all of those needs. Whether it is style or a certain function that is the most important.
Howard Braband also comments; 'We are able to offer customers some top of the range machines, such as the Precor Treadmills.
Having the ability to have commercial gym equipment inside a home is amazing. Then the idea of being able to go into the next room, turn off the phone and escape with a run is a rare thing. But I am proud that Health Clubs at Home can offer that experience to people.'
All of this is done at a very affordable rate. Meaning customers will pay a fraction for the gym equipment that the commercial gyms did, sometimes only just over a year before. As well as single machines there are fantastic offers available. Such as the garage package which includes a Treadmill, Bike and Rowing Machine. All this means that fitness enthusiasts can have a mini commercial gym in the garage, for the equivalent price of one machine.
That's not to say that Health Clubs at Home are limited in their selection. There are several brands on offer to customers, all offering something a little different. In the same way why not try something new in the home? There are wide ranges of Elliptical Cross Trainers that are perfect for a smaller room and easily utilised in spare time.
Health Clubs at Home are all about offering customers more than just a Treadmill. A new blog creates a platform for people to get involved, and is available to anyone looking for advice or wanting to share their fitness stories. By sharing health tips and workout plans, check it out now at http://www.healthclubsathome.blogspot.com.
For more information on how Health Clubs at Home can help with your needs then please call Howard Braband now on Freephone 0808 231 4876 or visit http://www.healthclubsathome.com