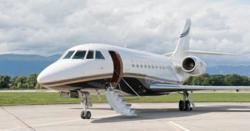 The introduction of this new service will further enhance our client's experience of dealing with us
London UK (PRWEB) March 10, 2012
Private Jet Central is delighted to announce the introduction of its new streamlined booking service to customers and clients in the UK. Introduced as a result of customer demand the service is now fully live following a successful trial run in early 2012. The aim of the service is to make a private jet charter as quick and convenient as possible.
Visitors to the site are now able to use a simple online quotation form that can be completed in as little as two minutes. All that is required from them is the departure date, departure airport, destination airport and the number of passengers who will be flying. The team of aviation experts at Private Jet Central then process this information to produce a number of alternatives to give to the client.
The MD of Private Jet Central John Smith stated that "The introduction of this new service will further enhance our client's experience of dealing with us". He went on to say that "Our clients our extremely busy people for whom time is a valuable resource".
This streamlined booking process is designed to take the confusion out of private jet hire. It has been designed by Private Jet Central to ensure that the booking process is as convenient as possible whilst still ensuring that the highest possible standards of personal service are delivered.
Private Jet Central is a global jet charter company with offices in the UK, USA and the Middle East. Founded in 2001 they offer a range of jet charter services to business and pleasure users in the UK and Europe. Their fleet of aircraft available for charter now includes the Gulfstream IV and V as well as the Falcon 2000. More information on the full range of services offered by Private Jet Central is available from their website and also by contacting any of their offices by phone or e-mail.