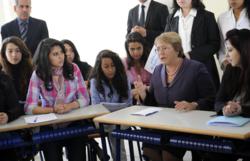 "Despite the steps taken forward and the progress made in many Arab States, women are demanding greater progress," said Ms. Bachelet at a press conference in Rabat on International Women's Day
Rabat, Morocco (PRWEB) March 08, 2012
Against the backdrop of global geopolitical events and during a period of unprecedented transformation in the region, UN Under-Secretary-General and UN Women Executive Director Michelle Bachelet commemorated International Women's Day in Morocco today. Highlighting the progress made globally in women's legal rights, educational achievements and participation in public life, she also underlined the huge gaps that still remain for women globally from unequal opportunities to gross violation of rights.
Ms. Bachelet called strongly upon world leaders to advance women's increased political participation and economic empowerment as the foundation for sustainable societies worldwide. "Women's full and equal participation in the political and economic arena is fundamental to democracy and justice, which people are demanding," she said. "Equal rights and opportunity underpin healthy economies and societies."
On her first official visit to the country, Ms. Bachelet commended Morocco and the Arab region on the gains that have been made, from the closing of the gender gap in schools and universities to the Moroccan Constitution, which establishes the principle of equality between men and women in all spheres and prioritizes international conventions, to the Tunisian Constituent Assembly where the electoral law for full parity enabled women to garner 27 percent of the seats during the recent elections. However, she urged for more concrete policy actions to improve women's lives.
"Despite the steps taken forward and the progress made in many Arab States, women are demanding greater progress," she said at a press conference in Rabat. "The distinction of having the world's lowest representation of women in politics and the labour force provides neither justice to Arab women nor to the history, legacy and future of the Arab world."
To kick off International Women's Day celebrations, Ms. Bachelet took part in an interactive dialogue with young school girls at the "Abidar Al Ghafari" High School in Rabat. The meeting brought together students who have been nominated by their peers from 15 schools around the city, to engage in a conversation on women's leadership and recent changes in the region. As part of the national commemoration of International Women's Day, Ms. Bachelet also addressed the conference, titled "Morocco on the Path towards Equality: Legal and Institutional Advances for Gender Equitable Public Policies," organized by the Ministry of Economy and Finance, and the Ministry of Solidarity, Women, Family and Social Development, in partnership with UN Women.
Ms. Bachelet will meet with the chief of government of Morocco and other Ministers during her three-day visit. Her trip will also include a visit on 9 March to a rural women's project undertaken by the Democratic Association of Moroccan Women and supported by UN Women, underlining the theme of this year's International Women's Day: "Empower Rural Women – End Poverty and Hunger." The project focuses on the struggle by the women members of the Soulalyates ethnic group for land rights and is a testament to the mobilization of women on the ground towards collective land rights and economic independence.
Several high-level meetings with officials, academics and civil society are also planned, where Ms. Bachelet will echo UN Women's strong commitment to support women worldwide, including Arab women across the region, during this period of transition, and to advance gender equality and bring concrete and lasting change in women's lives.
More photos »
[Also available in Arabic, French and Spanish.]
About UN Women
UN Women is the UN organization dedicated to gender equality and the empowerment of women. A global champion for women and girls, UN Women was established to accelerate progress on meeting their needs worldwide. For more information, visit http://www.unwomen.org. UN Women, 220 East 42nd Street, New York, NY 10017. Tel: +1 646 781-4400. Fax: +1 646 781-4444.