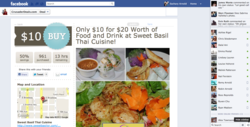 Palo Alto, CA (PRWEB) March 08, 2012
ChompOn, a company founded in 2010 in order to help businesses monetize their e-commerce strategies through group purchasing, has developed an innovative technology that is transforming the daily deals industry by integrating it with the power of social media through Facebook. Combining the best features of both daily deal sites and social networking, ChompOn is helping businesses improve their internet marketing strategies while also providing consumers excellent deals on great products and services.
With the rise of companies like Groupon and LivingSocial, daily deal sites have become very popular in recent years. BIA/Kelsey, a local media forecasting firm, estimates that consumers will spend nearly $4 billion on daily deal sites by 2015, which implies an annualized growth rate of more than 35 percent. It is becoming apparent that consumers are increasingly using daily deal sites to discover new products and new businesses.
ChompOn is helping facilitate this process by offering its technology to any business, flash sales, or daily deal site even if they have a pre-existing relationship with another company. By providing this flexibility, ChompOn is greatly expanding the size of the deals market by providing the capacity for any business, regardless of its size or the extent of its current internet presence, to market themselves through social promotions.
Customers do not even need a full website solution in order to take advantage of the many benefits of this new service. While it can integrate with an external website if desired, the technology can also stand alone on a Facebook Brand Timeline tab. As such, customers who are looking to purchase a coupon will not have to be redirected anywhere; the entire transaction takes place seamlessly within Facebook. Because customers are already familiar with the Facebook platform and trust it, this application will facilitate additional sales with people who may be uncomfortable interacting with companies outside of the Facebook ecosystem.
This integration with Facebook Brand Timelines also provides companies a great opportunity to use daily deals to expand their overall social marketing strategy. With more than 800 million users, Facebook has developed an unrivaled social network that has leveled the playing field by allowing small companies to compete with larger ones in a cost-effective manner. By utilizing ChompOn's technology, these businesses can drive more traffic to their fan pages, which will expand their customer base and create more social activity through "Likes" and wall postings.
Watch the video on how it works here:
http://www.youtube.com/watch?v=NzRBT_IC4fo&context=C478b