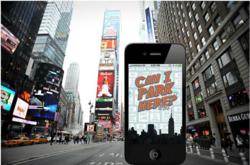 "The app is attractive and easy to use..." The New York Times
New York, NY (PRWEB) March 13, 2012
Have you ever parked on the street in any of the five boroughs in New York City? Did you ever wonder what the parking signs actually mean?
The development team at Can I Park Here, LLC created a simple-to-use iPhone app that allows users to decipher any parking sign in New York City with a touch of the button.
Almost all residents, commuters, city visitors, Broadway theatre enthusiasts, museum goers, and restaurant dwellers are aware that a parking garage in New York City can cost on average $40 per visit. Even worse, a street parking ticket can be more then $100. But how much would a tow to the pound cost? Don't even ponder it; just download the app for a one time fee of $1.99.
"After returning to my car one evening in Tribeca after a delightful dinner with friends, I was shocked to see a parking ticket on my windshield after reading what I thought was an "allowed to park" sign on a 4-sign pole of confusion," says Michael Fasano, one of the team's developers. "Our team developed a simple to use app to avoid this problem, using the public data that New York City provides through the Department of Transportation".
In just 2 months, the app has made headlines in major local newspapers, news channels, and radio stations such as The New York Times, CBS News, ABC 7, 1010 WINS Radio, CNN's Top 50 New Tech Tools You Should Know About, WPIX News, and the NY Daily News.
So why buy this app? If you drive into New York City at least once per year to visit friends, have fun, or go to work…you should own this app. This is an essential tool for driving and parking on the street in one of the biggest cities in the world. Save yourself time and money.