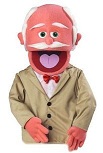 "A Client Referred Is A Client Preferred"
(PRWEB) March 13, 2012
Andrew Liebowitz of Lexrem Marketing created Senior Sam, a unique website designed to teach Seniors the benefits of obtaining a Reverse Mortgage.SeniorSam.com is unique because it serves as a testament to the power of referrals and it has an interesting storyline. I will get to that shortly. Liebowitz, who worked in the Mortgage Industry for 22 years, felt that a consumer's point of view would best relate to public perception and appear less threatening to Seniors that he feels could benefit from the Reverse program. In actuality, Sam is both the consumer and alter ego of Liebowitz. That actually makes Senior Sam and "experienced consumer." "Companies will often hire actors as spokesman to pitch their product", says Liebowitz. He then said, "In the Reverse market, Mortgage Bankers hiring elderly television personalities has become a popular marketing trend in attempts to influence viewers. Having deep advertising pockets does not make a Mortgage Banker superior when it comes to customer service and performance. I believe in a more personal approach. The quest to market this product became my passion. My mother obtained a Reverse Mortgage a couple of years ago and I strongly supported her decision to do so. Since I have an extensive mortgage background and an abundance of highly skilled and personable contacts, I feel that a great way to encourage Seniors to take advantage of this amazing product is for me to properly make an introduction. I'm proud to say that I know several Licensed Mortgage Loan Officers at reputable Lending Institutions that have an impressive Reverse Platform and can assist Seniors with their Reverse Mortgage needs. I intend to achieve that goal through Senior Sam. I am a strong believer in referrals therefore, I choose to refer the leads that come from Senior Sam to licensed loan officers as opposed to selling them to Banks. There is a big difference between referring potential business to someone that you know instead of sending consumers off to a stranger in exchange for a fee. I am truly excited about the launch of Senior Sam. It is rewarding to me knowing that I can really make a difference in the lives of many Seniors that can benefit from the Reverse Mortgage Program."
Now, here is the storyline. Senior Sam, a fictional character puppet is the identifiable mascot and joyful advocate of Reverse Mortgages. He just wants to preach, teach and refer. Banker Bob, another fictional character puppet is not only Senior Sam's Loan Officer but he is also the soon to become Son-In-Law to Sam. Bob meets Sam's daughter at his Reverse Mortgage In-House Closing. The storyline empowers the fact that referrals can establish more than just a business relationship. They may also have a personal impact as well. Note that Sam first met Bob by means of a referral. Banker Bob's favorite quote, which became the tag line for the website is "A client referred is a client preferred." Senior Sam and Banker Bob appear in a video featured on the SeniorSam.com website in which they talk and sing about the benefits of Reverse Mortgages. There is even a Q & A session involving puppets in the audience. The video is entitled "The Senior Sam Show." I found it to be educational and entertaining
Consumers are encouraged to contact Sam by phone, email or by filling out a short form on the SeniorSam.com website. Sam takes pride in passing referrals onto Bob and his team of experienced Reverse Mortgage Loan Officers. Andrew Liebowitz has a message for consumers who are interested in acquiring Reverse Mortgages. "Trust Senior Sam to refer you to the knowledgeable Banker Bobs that are eager to help you attain Financial Freedom via a Reverse Mortgage."
Reverse Mortgages are a great way for Seniors, age 62 years and older to enjoy a stress free life during these hard economic times. Social Security and Retirement Income is not always enough to get by. With an FHA Reverse Mortgage, Seniors are able to receive tax free income on a monthly basis or in one lump sum which is known as a Home Equity Conversion Mortgage (HECM). This additional relief does not affect any of the financial benefits that Seniors are already receiving. There are currently no income or credit requirements for Seniors to qualify. Loans amounts are determined by age and present equity in a home. Seniors will never be forced to pay the loan back unless they decide to occupy a different property and there is no worry for a homeowner or their heirs in the case where the loan winds up exceeding the homes value. Another advantage to obtaining a Reverse Mortgage is the fund usage. There is never a restriction on what purpose the Reverse Mortgage proceeds are used for. Paying off debt, Home Improvements, vacations, investments and rainy day savings are all notable reasons to get a Reverse Mortgage.
Visit http://www.seniorsam.com to learn more about Reverse Mortgages. I did and Sam will soon be getting my referrals.
Michelle Lewis
Bizworks Media Group