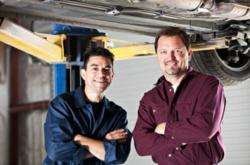 London, UK (PRWEB UK) 9 March 2012
Motor Codes, the automotive industry's self-regulator, has begun its Garage of the Year competition. The addition of award categories reflecting large and small garages is new for 2012. That means a garage with five technicians stands just as much chance of winning as a franchise with 50!
The competition, now in its third year, is free to enter and is open to all garages and workshops in the UK.
Consumer voting is now open. As an incentive, customers nominating their garage will be in with a chance to win a year's free servicing on offer, as well as tickets to the British Grand Prix at Silverstone. The prize fund also includes Snap-on vouchers as well as Land Rover and Porsche driving experiences.
"In the last two years, thousands of motorists have voted to support their local garage and both the regional and national winners have spoken about the impact this has had on their business. The competition is a great opportunity to shout about what's good in our industry and stand up against the negative image that some people still hold," said Chris Mason, Motor Codes Managing Director.
In April, the top 50 large and small garages will be shortlisted and customers of those garages can continue voting, to help decide the Motor Codes Garage of the Year.
Motor trade insurance is an essential consideration that needs to be taken into account when repairing cars. You should get at least 2 or 3 motor trade insurance quotes online and compare costs and coverage. Why not let Trade Plan Insurance search the motor trade car insurance market on your behalf?
Sources:
Weboptimiser News: http://www.weboptimisernews.com
Trade Plan Insurance: http://www.tradeplaninsurance.co.uk