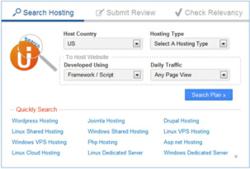 Quality of customer reviews means the quality of web hosting rating and ranking!
San Francisco, CA (PRWEB) March 09, 2012
HostUCan.com, an industry leading web hosting review and search site, today revealed the practice on how to ensure the trustworthiness of the hosting reviews submitted by its visitors.
In its article about How to Ensure the Trustworthiness of Customer Reviews, HostUCan lists the key practices it follows right now:
1) Only accept the reviews from real customers
2) Manually verify the truth of review before publishing
3) Verify the ownership of domain if necessary
Those practices have been proven to be very effective in identifying customer review spams. As reported by HostUCan.com, over 60% of customer reviews are removed after validation.
HostUCan is designed to be trusted place to help people find the best web hosting solution for its sites. Customer reviews play a critical role in its system when ranking web hosting service. To ensure the quality of the search results, first of all, HostUCan has to ensure the trustworthiness of all the reviews it has collected, which has become fundamental to the success of its business.
About HostUCan.com
HostUCan.com is a need-centric web hosting search and review platform. Their powerful products search engine could help webmasters find the best hosting solutions based on their hosting needs. HostUCan is also a place for webmasters to share their hosting experience and to seek information from other experts.
###