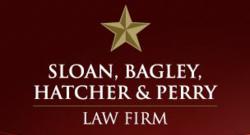 Longview, TX (PRWEB) March 10, 2012
An accident that is due to the negligent actions of another and causes injuries or fatalities can devastate the victims and their families. Victims should know their rights to compensation for their injuries and suffering. In the workplace, when an employer misclassifies an employee and fails to pay for overtime, the employer may be in violation of the state and federal laws. The established firm of Sloan, Bagley, Hatcher & Perry helps accident victims achieve fair and just compensation for their injuries and suffering. They are knowledgeable in the area of employment law and help employees affected by wage & hour violations in the workplace.
The firm teamed up with the website design and marketing company Scorpion Design, Inc. The company utilizes successful online marketing for attorneys and law firms throughout the U.S. These most recent sites are devoted to personal injury, oil field injury, truck accidents, car accidents, and wage & hour law.
Visitors to the sites will find them modern, user-friendly, and informative. One can learn about the different types of accidents, compensation for injuries, and what actions to take following an accident. Employees can find the information beneficial if they have received unfair treatment in the workplace, been inadequately compensated for their work, denied severance, or been the victim of some other kind of violation. A viewer can watch an attorney discuss important and relevant cases and their outcomes. The site makes it possible for a visitor to reach an Houston personal injury attorney online or by phone and get help with an accident claim or lawsuit, or help with a wage & hour issue.
The firm is recognized as Texas SuperLawyers, AV rated, and are Board Certified Personal Injury Trial Lawyers and Board Certified Civil Trial Advocates. Memberships include Texas Board of Legal Specialization, American Association for Justice – AAJ, and more.
Take this opportunity to visit the firm online or call and receive a confidential consultation. Contact a Houston personal injury attorney from the firm today.