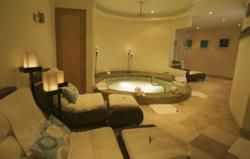 Sparitual is a sanctuary in paradise, waiting to fulfill their guests needs and exceed all expectations.
Cabo San Lucas, Mexico (PRWEB) March 14, 2012
Among the numerous on-site amenities of Cabo Villas Resort & Spa (http://www.discountedcabobeachresorts.com), located on the popular and family-friendly Medano Beach, is a beautiful full-service spa retreat called Sparitual. A holistic spa dedicated to nurturing health and well-being, Sparitual integrates exotic ancient rituals with state of the art technologies. The spa features a professional staff of highly trained certified therapists and proudly features an exclusive line of guaranteed eco-friendly products to transport their client's spirit.
A unique oasis to indulge in the sensorial world of ancient regimes from the Far East, South Pacific and South America, Sparitual provides a multitude of wellness services and healing arts, all designed to seduce the senses and nurture health and well-being. Sparitual is a sanctuary in paradise, waiting to fulfill their guests needs and exceed all expectations.
Ancient Secrets meet New Technologies
Cabo San Lucas is one of the world's most popular vacation destinations, year after year, and there are many opportunities to relax and rejuvenate. Sparitual offers an exclusive retreat within a resort, allowing guests of Cabo Villas Resort & Spa to escape for an hour or an afternoon. Spartitual's mission is to create a sanctuary for their guests, where they can find the balance of body, mind and soul with an unmatched quality of personalized spa services.
Sparitual's philosophy is based on Chakras, the ancient Eastern healing practices of gently balancing the spinning, wheel-like vortices of energy within us - the centers of activity for the reception, assimilation and transmission of the vital life energies. Using the healing elements associated with each Chakra, Sparitual offers a wide selection of exquisite, exotic treatments developed by the staff to subtly transport the senses to a point that captures the true essence of connecting with and soothing the mind, body and spirit.
The spa offers a full menu of spa services including massage therapies, body treatments, skin care facials. Along with shiatsu massage, Sparitual features exclusive mind & body rituals include the Pacific lava Shell Ritual - A deeply relaxing massage, using heat activated Tiger Clam Shells to rhythmically ease muscle tension to the peaceful ebb and flow movements of the Ocean. Another popular package is the Four Hands Ritual - Using specially selected herbs, essential oils and aromatherapy, this exotic holistic treatment uses two therapists simultaneously synchronized and rhythmically massaging and calming your nerves to relax you to a perfectly balanced state of body and mind.
New Packages for Every Budget & Situation
In addition to all the individual services offered at Sparitual, the spa has added a number of packages for couples – and even one for wedding parties. The Yenekamu Couples Ritual is a Mayan lovers ritual treasured through the ages, develop to seduce the senses and captivate the heart with the delicacies of wine, roses, and honey all in a VIP room, romantically designed for two, with soft candlelight, double Hydro massage Jacuzzi, and twin massage tables side by side.
The Balinese Ritual is described as a relaxing South Seas Journey that arouses the senses with aromatic oils and exotic ingredients. It is of Bali's legendary exquisite rituals, revered for balancing the physical body while calming and centering the mind. With flower petal and mineral salts foot-baths, a body massage, and a Hydro massage Jacuzzi, the ritual is served with Chai tea or wine.
Book your Mexican Vacation online now at DiscountedCaboBeachResorts.com and start packing for Cabo San Lucas and a day spent in paradise at Sparitual!