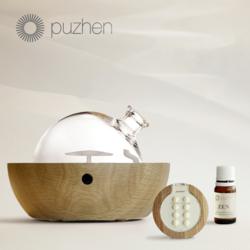 "I diffuse certified pure essential oils every day in my home. Essential oils freshen the air very effectively, and depending on what oils I use, they can also help reduce stress, relieve nasal congestion, help the children focus on homework." -- C. Incze
New York, New York (PRWEB) March 12, 2012
Lifestyle Brand, Puzhen Life USA introduces Ancient Chinese traditions to the Modern World for a higher quality living environment with products including Five-Sense™ Aroma Diffusers, Essential Oils, Pu-er Teas & Jun Kiln Fired Porcelain Ceramics.
The luxury brand, Puzhen Life USA, New York City, announces the launch of the new highline e-commerce website dedicated to the simplicity and purity of the body and mind. Puzhen Life is dedicated to promoting a harmonious and natural way of living in the modern world. The new Puzhen Life website features health & well-being products, including the innovative, handcrafted Five-Sense™ Aroma Diffusers. Five-Sense™ Aroma Diffusers relieve stress and anxiety after a long day in the hustle and bustle of today's society. "Rediscover Your True Self" is the Puzhen Life motto as an inspiration for you to live healthily and find a balance in your life.
The new Puzhen Life site features a variety of handcrafted aroma diffusers crafted with high quality natural materials and a line of plastic diffusers for the budget conscious. You can choose from a selection of pure essential oil blends for your essential oil diffuser. You will also find a select offering of mountain grown Pu-er teas and handmade Jun Kiln Fired Ceramics. The Lifestyle section will introduce you to the unique craftsmanship of the Puzhen Life, featuring ancient Chinese stories. Learn about traditions and discover interesting articles and videos to introduce you to the "Puzhen Life." Visit http://www.Puzhen.com for additional information. For immediate assistance call: (212) 672-1905. You can connect with Puzhen Life on Facebook, Twitter, or Google+.
Check out all the Puzhen Life videos on Puzhen Life's YouTube channel.
Puzhen Life USA company office and showroom are located at:
Puzhen Life USA
245 Park Avenue 24th Floor
New York, NY 10167
(212) 672-1905
http://www.Puzhen.com
About Puzhen Life USA:
Puzhen Life creates the way of living that enables our mind to return to the realm of purity. Puzhen's products are designed to introduce the spirit of ancient China to today's lifestyle, empowering you to achieve equilibrium of body, mind, and soul while engaging your five senses. Puzhen Life's product series utilize ancient Chinese craftsmanship with modern technology. The way they harvest Pu-er tea and hand make the diffusers and ceramics are the same traditional Chinese methods used thousands of years ago. Shop Puzhen's products today!