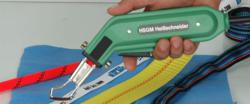 (PRWEB) March 20, 2012
Over the years, HSGM, Inc., a Duncan, SC based manufacturer of heat cutters and related equipment, has built a solid reputation for providing some of the finest heat cutting equipment available. Their products cut and seal the edges of rope, fabric, foam and other synthetic materials; eliminating unraveling and fraying. With their broad selection of tools and the ability to custom design cutters to fit almost any need, HSGM is poised to bring their equipment to entirely new markets by working with new distributors.
HSGM, Inc. has a tool for every application. From heat cutting to soldering, professionals around the world trust and use their equipment. Their heat cutting tools provide effective solutions for any number of applications. All of their systems are backed by a firm commitment to excellence and quality that is second to none.
Additionally, they offer a range of Type HSG-0 and Type M parts, the perfect accompaniment to their line of professional heat cutting tools and machines. There is simply no job HSGM, Inc. is not equipped to handle.
HSGM, Inc is now actively looking to partner with new distributors to help bring their best-in-class heat cutting tools and parts to customers everywhere. Interested distributors should contact HSGM at 888-854-4746. Discounted pricing is available, and because the new expansion initiative includes lowered ordering quantities, it will be easier than ever for distributors to become part of the HSGM team.
The future is looking bright for HSGM, Inc. They are backed by a team of highly qualified professionals dedicated to providing the best customer service in the industry. HSGM relies on a network of distributors, and are looking to expand that network as well. Working side by side with their new distributors, HSGM is ready for anything.
About the company:
HSGM GmbH of Walluf, Germany, world-recognized manufacturer of heat cutting equipment and machines, announced the opening of their first company, HSGM Inc., in the United States in January 1998. The offices are located at Hwy. 290 in Duncan, S.C. (USA) and consist of both a sales office and a warehouse/distribution center. They are a source for high quality heat cutter, hot knives, webbing cutter, styrofoam cutting tools, hot wire foam cutting tools, soldering iron tools, synthetic fabric cutter and supplies.They carry a full line of heat cutting equipment, blades, and spare parts for the textile, automotive, agricultural, geo-textile, marine, garment, and sports equipment industries. Additionally, they offer heat cutting equipment for Styrofoam boards used in the building construction trade and small rechargeable soldering guns for use by the electrical and electronics trade. HSGM, Inc. is the exclusive authorized Agent for North America. For more information visit them at http://www.foamcuttingtoolsspartanburg.com and http://www.hsgmusa.com.