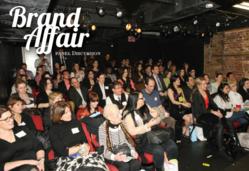 The Brand Affair was a HUGE success and provided an opportunity for retailers, designers and brands to connect and learn in a great environment and see the talented designers from the Lingerie Designer Showcase - Luis Paredes
new york, ny (PRWEB) March 08, 2012
Combining the best elements of a marketing seminar, a lingerie fashion show and a networking event, New York City's newest Lingerie Trade Show, the Lingerie Designer Showcase held its debut Brand Affair Event in collaboration with intimate apparel resource site BraLaMode.com on February 22, 2012 at The Producers Club on West 44th Street, NYC.
The exclusive industry event was sold out within 24 hours of announcement and as the venue filled up on the eve of the event, it quickly became standing-room only. Approximately over 150 people attended the event.
The Brand Affair event was a panel discussion on the importance of marketing and PR for lingerie brands and businesses and was moderated by Margaret Shrum, the Lingerie Goddess and included, as panelists, Lauren Rich, founder + director of RICHPR, a Fashion PR agency specializing in intimate apparel; Treacle, the Founder of the Lingerie Addict and digital media consultant for the lingerie industry; Karl Jaufman of the ecommerce company Gozooko and Dan Sackrowitz, VP of Marketing and New Business Development at BareNecessities.com.
Attendees learned how to overcome the challenges inherent in both digital and traditional marketing, and were able to gain insight into further building their brands and businesses. A full recap of the seminar is available here: http://thelingeriejournal.com/brand-affair-seminar-recap/
"The response to the Brand Affair was incredibly overwhelming," said Luis Paredes, publisher of the lingerie news site the Lingerie Journal and co-organizer of the event. "We wanted to create an event that was positive, informative and fun for our guests and also make it a platform to celebrate and honor the talented exhibitors at the Lingerie Designer Showcase. And we succeeded!"
Guests included intimate apparel industry marketing professionals. Boutique buyers and owners included Angie Courtney of Sweetest Sin, Cristina Casciano-King of Peek Brooklyn, Jen Manuel Carroll of Belle Fleur Lingerie, Tia Lyn of Contours Lingerie, Brian Terry of giselelima.com, Gerri Nuval from My Boudoir as well as numerous others from around the US and Canada.
Influential lingerie bloggers and other press/media included Ellen Lewis and Shirley Wolf Freeman of LingerieBriefs.com, Heather Briggs of McPete Sez Lingerie Newsletter, Holly Jackson of TheFullFiguredChest.com and many more.
Brands attending the event included Curvy Kate, the Naked Princess, Irely Intimates, Lola Haze, Affinitas Intimates. Other industry professionals included Elisabeth Dale of The Breast Life, Ali Cudby of Fab Foundations, Darlene Campbell of Campbell & Kate and the full-busted blog Hourglassy.com, as well as industry icon Roslyn Harte.
The highlight of the event was a "Lingerie Exhibition" fashion show featuring the latest designs of the incredibly talented independent designers showcasing their collections at The Lingerie Designer Showcase – Andrea Billard, Ann Vogue, Clare Bare Lingerie, Dottie's Delights, Fred and Ginger, Good Night Gilda, Ombrato Sleepwear, Priscilla Jade Lingerie and Toad Lillie.
Guests mingled with fellow industry professionals while admiring the unique lingerie designs modeled throughout the "Intimate Affair" Networking Social which followed the panel discussion. This original lingerie event was co-hosted and sponsored by Bra La Mode and The Lingerie Journal.
Luis Paredes, publisher of The Lingerie Journal and founder of the Lingerie Designer Showcase and Moira Nelson, lingerie industry professional and founder of the intimate apparel resource site Bra La Mode, share a passion for uniting independent lingerie designers, brands and businesses with larger scale intimate apparel companies, organizations and professionals. Their mission is to connect lingerie professionals from all aspects of the industry to collaborate, educate, inspire, empower, and to share resources to ultimately elevate the intimate apparel industry as a whole.
The Brand Affair was held on the second day of the Lingerie Designer Showcase – a new lingerie trade show for independent lingerie designers. The showcase was held from February 21 – 23, 2012 at the AKA Hotel Residences on 44th street between 6th and 7th Avenues in New York City.
The event was sponsored by Bra La Mode, Love Me Sugar Sleepmasks, Eucalan Lingerie Wash, Fits.me, Bra La Mode, PromoStyl, Lingerie Briefs, BareNecessities.com, The Lingerie Addict, RichPR, Affinitas, ecommerce solutions provider Gozooko, Directory-Sexy.com and The Full Figured Chest.