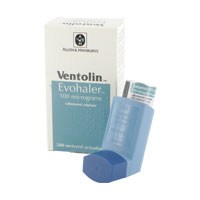 A Ventolin Evohaler provides instantaneous relief from the distressing symptoms of an asthma attack.
London, UK (PRWEB UK) 10 March 2012
OnlineClinic.co.uk has many years' experience providing genuine medications on prescription for a range of health conditions. Since their launch in 2012, OnlineClinic have continued to expand their range of conditions and medications to provide the highest level of service to new and existing patients. In addition to offering genuine medications securely and discreetly, OnlineClinic also provides comprehensive information regarding every condition they treat, which includes details relating to causes and symptoms of the condition, as well as available treatments. This month sees the launch of two new categories, Asthma and Diabetes. These two chronic conditions require regular treatment, often in the form of prescription medication.
Asthma
Asthma is a respiratory disorder characterised by breathing problems such as wheezing and coughing. People who suffer from asthma may experience asthma attacks, which can be distressing and can constitute a medical emergency. Treatment for asthma usually takes the form of either a preventer or a reliever inhaler, which are only obtainable with a prescription. An example of a reliever inhaler is Ventolin, which is now available to order safely and securely online at OnlineClinic.co.uk.
Diabetes
Diabetes is a chronic condition that is diagnosed when a person's blood sugar level is too high. It is separated into Type 1 or Type 2 diabetes. Treatment should be discussed in detail with a specialist prior to any decisions being made, as it will depend on factors such as which type of diabetes an individual has. It will often involve some form of insulin treatment. Some people with Type 2 diabetes will be prescribed Metformin, a biguanide medication that is now available to order at OnlineClinic.co.uk by those who have been diagnosed with Type 2 diabetes.
OnlineClinic.co.uk Company Information
Launched in 2002, OnlineClinic.co.uk offers prescription treatments for a number of common healthcare problems including men's and women's health problems, sexual health, obesity, smoking, travel treatments and general lifestyle health. Because OnlineClinic.co.uk specialise in treating sensitive conditions, they offer a simple yet discreet online consultation service with a registered doctor. Patients can complete their private consultation and receive their medication the following day via secure courier.
For more details, visit the website at onlineclinic.co.uk or contact OnlineClinic on 020 7084 7593.
OnlineClinic is a brand name of Hexpress Healthcare Ltd, 138 – 140 Mitcham Road, London SW17 9NH, United Kingdom. Phone: 020 7084 7060.