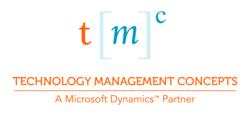 We are honored to be a part of a group of first-class Microsoft partners to bring the world the premier level of education on Microsoft Dynamics products
Los Angeles, CA (PRWEB) March 09, 2012
TMC, a founding member of Dynamics University, is proud to announce the launch of http://www.dynamicsuniversity.com on March 5th, 2012. Dynamics University is a group of top Microsoft Dynamics partners based across the U.S that provide content, answers, and tools for current and prospective Microsoft Dynamics users. Dynamics University will provide education and training through a quarterly magazine, website/blog, and a regular schedule of webinars. In mid-2012 Dynamics University will also launch a full schedule of instructor-led classroom and virtual classroom training offerings.
"Technology Management Concepts is ecstatic about the launch of Dynamics University," said Jennifer Harris, President of TMC. "We are honored to be a part of a group of first-class Microsoft partners to bring the world the premier level of education on Microsoft Dynamics products. High quality training and education is absolutely vital to the success of implementing Microsoft Dynamics GP, Microsoft NAV and Microsoft Dynamics CRM. Our involvement with Dynamics University will enhance the ability of Technology Management Concepts to do just that."
Dynamics University's member partners include: Technology Management Concepts (Marina Del Rey, CA) Business Ready Solutions (Durham, NC), Cargas Systems (Lancaster, PA), Express Information Systems (San Antonio, TX), Integrated Business Group (Altamonte Springs, FL), Quadis Technologies (Lincoln, NE), Summit Group Software (Fargo, ND), Knaster Technology Group (Centennial CO), The Resource Group (Renton, WA), and The TM Group (Farmington Hills, MI).
For more information please visit http://www.dynamicsuniversity.com.
About TMC
Technology Management Concepts (TMC) is a professional services organization based in Southern California, specializing in Microsoft Dynamics GP (formerly Great Plains), NAV, and CRM for companies of all sizes, from small/mid-size businesses to multinational and worldwide organizations. TMC helps their customers strategically leverage their IT investment in GP, NAV and CRM to become more productive, efficient and competitive. TMC has in-house expertise in many industry sectors and vertical markets, making each implementation unique and focused around the customers' business needs and objectives. TMC's goal is to help companies derive long term business value from their software investments and they share Microsoft's commitment to long lasting relationships.
TMC is known for high quality implementations and long lasting relationships with both their customers and employees. As a Microsoft Gold Partner, TMC is recognized for their exceptional customer service, training and support. In addition, to their Gold Certification, TMC continues yearly to receive numerous awards from premier groups such as a Microsoft's President's Club, Accounting Today Top 100 VARs, and Bob Scott's Top 100 VARs.
For over 25 years, TMC has been providing personalized ERP support services, from the beginning stages of business process review, to implementation, training and ongoing support.
With over 15 team members in various locations, consisting of application and technical consultants, developers and project managers, TMC is dedicated in helping you achieve your goals and serving our clients in Southern California and nationwide.