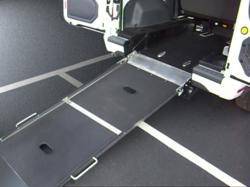 Finally, you can have a wheelchair-accessible taxi which you can use with every fare.
Akron, Ohio (PRWEB) March 08, 2012
The transportation of wheelchair passengers just became simpler for van taxi drivers and other mass transit operators thanks to the new Flex-Flat Ramp system manufactured by MobilityWorks – a national chain of mobility equipment providers headquartered in Akron, Ohio. Flex-Flat, which folds out of the back of vans for easy use by wheelchair customers, is a ramp system that folds completely flat when not in use so that the back of vans can be used for transporting other items such as suitcases, golf bags, delivery boxes, etc. The Flex-Flat Ramp system thus enables far greater versatility in commuter transport situations.
"This is simply a great innovation which brings versatility and efficiency to the world of wheelchair transportation," explained Ken Richards, National Sales Manager for MobilityWorks Commercial. "After offering our Ford Transit Connect, Dodge, Chrysler and Toyota handicap accessible minivans for several years now as products in our commercial division, we kept hearing one comment time and again. 'We love your rear-entry vans, but the ramp stands-up when not in use and it gets in the way.' So we put our engineers to work and after much development and testing, we are very pleased to announce that the Flex-Flat Ramp is here for the American market!"
Featuring an easy fold-out design that converts in seconds, the Flex-Flat Ramp system folds flat after use and conveniently tucks-away on the floor of the vehicle with minimum effort by the vehicle's operator. Storage space is then available for the possessions of those traveling in the van, making the vehicle much more efficient for both wheelchair and non-wheelchair users. Tumble-forward 2nd row seating also comes standard with the Flex-Flat Ramp package in the Transit Connect.
Available currently from MobilityWorks on the Ford Transit Connect, the Flex-Flat Ramp will be available in early 2012 on the Chrysler Town & Country, the Dodge Grand Caravan and the Volkswagen Routan wheelchair accessible taxis. Perfect for taxi use in-city or for carrying fares to and from airports, the new system promises to make work shifts easier and more profitable for taxi & independent wheelchair transport companies across America.
"We're really pleased to be offering this manufacturing design innovation to the transportation industry, as well as to our clientele who rely on taxicab services for their basic everyday needs," Richards confessed positively. "Finally, you can have a wheelchair-accessible taxi which you can use with every fare."
About Mobility Works
MobilityWorks is a national chain of wheelchair accessible van providers - serving the disabled community with wheelchair accessible lowered floor minivans and full-size vans. The MobilityWorks Commercial division manufactures commercial fleet vehicles for business clients throughout the country. MobilityWorks also provides certified equipment installation and inspection services for wheelchair accessible vehicles; offers wheelchair & scooter lifts, hand controls, docking systems and wheelchair tie-down systems. The company also offers wheelchair van rentals in addition to its sale of new and used wheelchair vans across America.