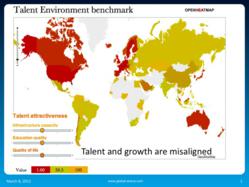 The New Competition for Growth has started
(PRWEB) March 11, 2012
New Competition for Growth
With the rise of high growth emerging economies like Brazil, China and India as new global economic powers and the Western financial crisis the old laws of economic growth and competition have been changed permanently, the New Competition for Growth has started. As a result, next to the usual considerations, talent and skilled labor are becoming more and more important in location decision making processes.
The international competition for attracting and retaining high value investments will become increasingly fierce. Attracting talent and assuring a sustainable supply of a skilled labor force will become a major competitive factor not just at a national level, but also between multinationals from emerging countries and the ones from developed countries.
With the launch of its new campaign "The New Competition for Growth" at MIPIM 2012 on March 7th Global-Arena.com has started developing advanced new services to provide in-depth understandings for location decision making processes. With expanding further its capabilities to identifying global high growth opportunities, Global-Arena.com is able to support these processes for companies on questions where to locate as well as for promotion agencies on how to attract such companies. As a result, matching of demand and supply is done far more efficiently and effectively.
Global High Growth Opportunities ranks United States on top
Talent tends to be increasingly mobile,and people are able to work anywhere/anytime thanks to IT-based solutions. As a result, the question is not any longer only which countries offer a competitive business environment with high growth opportunities, but especially also which ones offer the most attractive environment for talent to work from.
Global-Arena.com's interactive online analysis global high growth opportunities allows users to set their own preferences and get detailed insights in which countries offer the most competitive business environment and which of them are most attractive for talent in terms mobility, opportunities for ongoing education, and quality of life.
The study shows that currently the United States offers the best combination of a competitive business environment, an attractive talent environment, and fundamentals for future growth. Other high-ranked countries are Switzerland, Luxembourg, Qatar, the UK, and Singapore.
The analysis also reveals significant differences between the countries when the location factors are weighted differently. For example Switzerland, Singapore, and Finland rank highest on competitive business environment, whereas the US, Switzerland, and France rank highest on talent environment. On the category with key growth drivers Qatar and China are the top ranked countries.
So while the US ranks on top overall, other countries rank on top in different discrete factors. Depending on the needs of the business, using Global-Arena.com's platform these factors can be weighted and adjusted, so as to get a ranking that matches a specific set of needs.