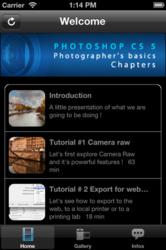 (PRWEB) March 08, 2012
Seven lessons to learn the basics of Photoshop with as little theory as possible. A first on iOS, simple tutorials that get any beginner or aspiring photographer the certainty to edit one's photos and output amazing pictures. At an unbeatable price.
Serge Ramelli the French pioneer of HDR photography (see his works at
http://www.photoserge.com) mastered photography and Photoshop through tutorials and reading books on books. He found many of these tutorials lacking simplicity and most importantly having a too long runway to get one started editing pictures.
After using the software for a decade and mastering all it's nooks and crannies Serge decided to make a series of tutorials to teach beginners and aspiring photographers the basics and get over the frustration of retouching ones images.
With several years of experience and success in making tutorials in French, becoming the most popular instructor on France's main tutorial site, Serge is releasing his first English tutorials on iOS.
Photoshop Basics teaches the one how to take one's images from the camera and start editing them into amazing pictures with a real WOW. Delivered with the application are highres images to follow during the tutorials and replicate the retouching of Serge.
Subjects covered:
Chapter one: Camera raw
Let's explore Camera Raw and go over it's main features to develop with the best quality Raw and Jpg files
63 min
Chapter two: Export for web & prints
Let's how we can export to the web, print on your printer or send to a lab, the photos we have retouched in chapter one
18 min
Chapter Three: Photoshop blending modes & masking
In this chapter we are going to take Photoshop to a next level to explore the blending and masking options to change the sky on photos, or change the background on portraits
31 min
Chapter Four : Black and white
We are going to go over two black and white technics and apply some Photoshop features for more artistic results.
12 min
Chapter Five : Double raw conversion
We will use a special technique to double convert a raw file to get a proper exposure for the foreground and background of a photo, natural HDR !
7 min
Chapter Six : Assembling panoramic photos
Let's see how to develop our raws files and then merge them using Photoshop merging feature : Photomerge to create awesome panoramic
10 min
Chapter 7 : Exporting and renaming from bridge
Let's use Bridge to rename and export our retouched photos as a final training
6 min
Photoshop CS5 for photographer basics, the is available now in the App Store as a universal app for iPhone and iPad at: http://itunes.apple.com/app/photoshop-cs-5-for-photographer/id502473399?mt=8.
For more information or media inquiries, contact Mark Johnson of appshout! on behalf of Photoserge.com at +1 408 757 0086 or press(at)myappshout(dot)com.
About Photoserge.com
Photoserge.com is the official website of Serge Ramelli, who has been a specialist for landscape/urban photography over the last 6 years. Serge started a famous series called "Paris cinema", the idea was too shoot Paris with today's digital technology in the way great cinema of old hollywood cinema would; like Gone with the wind, or the cinema of Jean Pierre Jeunet "Amélie Poulain" or Luc besson "Angela".
The series was so famous that many photographerq wanted to know how he shot and retouched the photos. Serge made a training series that sold over 8000 copies in a few months through a Web site tuto.com, making it the number 1 selling digital artist video training. Serge techniques are now available on the ITunes App Store.