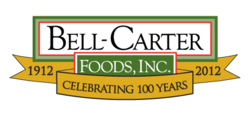 CORNING, Calif. (PRWEB) March 12, 2012
Bell-Carter Foods is proud to announce its 100th year in business. Founded in 1912, Bell-Carter Foods sells more than half of all the olives grown in California. The company is the largest table olive producer in the U.S. and the second largest producer in the world.
What began as a small olive grove in Reedley, Calif., in 1912 eventually grew to produce olives for one of the most widely recognized food brands in the country. Brothers Arthur and Henry Bell founded the company to pursue their lifelong dream. The Bell brothers were committed to innovation, quality and customer service and built their company on these principles.
"We are extremely proud to reach the 100-year mark as a company," said Tim T. Carter, chief operating officer of Bell-Carter Foods. "We are so grateful to the entire Bell-Carter family — the supportive community, loyal customers and dedicated employees — for being a part of this milestone. We are as much a family company today as when my great grandfather and his brother started the company in 1912. We look forward to celebrating the 200-year milestone in another four generations of the Bell-Carter family."
As the company grew, it began packaging and distributing olives under the Lindsay Olives brand name. Lindsay Olives will celebrate its 100th year in business in 2016. Bell-Carter Foods also produces olives for private labels. Bell-Carter Foods harvests black and green ripe olives, and imports Kalamata olives from Greece and Spanish olives, cocktail onions, capers and pimientos from Spain. Bell-Carter's California growers cultivate two main olive varieties: Manzanillo and Sevillano.
Bell-Carter Foods is committed to providing an exceptional company culture and giving back to the community. The company regularly donates to community organizations, food-based charities and educational causes. The company also recycles more than 90 percent of all waste products and takes measures to minimize its energy consumption.
Key milestones over the past century:

1912 – Bell-Carter was founded in Reedley, Calif. The Bell brothers began with one small olive grove, harvesting and selling to other olive processors in California.
1930 – The first Bell's branded olives were canned and marketed to consumers.
1930s – Co-founder Arthur Bell helped invent the pitter-chopper, now widely used in the industry to pit olives. This revolutionary device removes pits and chops olives simultaneously.
1930s – Bell-Carter's olives became the "islands" in 1000 Island Dressing
1938 – Bell-Carter Foods packaged 7,000 cases of olives that year, the most they had packaged to-date.
1964 – A third generation of the Carter family entered the business.
1990s – Bell-Carter tripled its sales, expanding and diversifying its offerings.
Present – Bell-Carter welcomes a fourth generation of family into the company.
Present – Bell-Carter is the largest ripe olive processor in the world
For more information, visit BellCarter.com.
About Bell-Carter Foods
Founded in 1912, Bell-Carter Foods is the largest table olive producer in the U.S. and the second largest in the world. It produces olives for both private labels and America's number one selling olive brand, Lindsay Olives. Bell-Carter Foods is dedicated to producing quality products from a quality company with family values, a commitment to sustainability and innovation.