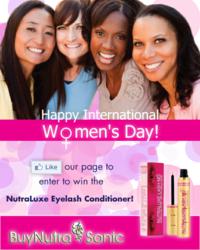 Seattle, WA (PRWEB) March 08, 2012
How many people have heard of Lady Murasaki and her novel "The Tale of Genji" considered by many to be the first novel ever written by a woman? What about Elizabeth Kenny, an Australian nurse who devised a new approach to treating polio and helped found the practice of physiotherapy? BuyNutraSonic is honoring and praising these women (and all women!) this year on International Women's Day.
To celebrate women and their political and social achievements, BuyNutraSonic is holding a Facebook Sweepstakes and will give away one NutraLuxe Eyelash Conditioner, a safe and original formula designed to improve eyelash and eyebrow thickness, fullness, darkness and length in just four to eight weeks. Users must first "Like" the NutraSonic Facebook page and enter their information on the sweepstakes tab. The lucky winner will be announced on Saturday, March 17, 2012.
International Women's Day has been held since the early 1900s. Every year on March 8, thousands of events are held worldwide to inspire women and celebrate achievements. In fact, in 1987, the National Women's History Project petitioned Congress to make the entire month of March "Women's History Month."
Each year, the United Nations declares an overall theme for International Women's Day. Its 2012 theme is "Empower Rural Women- End Hunger and Poverty." This theme recognizes the critical role and contribution of rural women and urges the community to promotion women's health, education and rights.
About BuyNutraSonic: BuyNutraSonic.com is an online store specializing in beauty products for both men and women. Some of its most popular items include the NutraSonic Essential Face and Body Cleansing Brush, the Cellulite Reduction Massager set and NutraLuxe Lash, an eyelash conditioner.
About DNA Response. DNA Response, Inc. (DNA) provides turnkey e-commerce, online marketing, and order management services to companies in the $300 Billion direct response market. DNA clients sell products direct to consumers using TV, radio, print catalogs, web and mobile as their sales channels. DNA's ECOM2TM platform utilizes state-of-the art cloud computing technologies and services to improve operational efficiency by reducing transaction costs, eliminating credit card declines, and lowering order cancellations and product returns, while simultaneously increasing online revenue for our clients. DNA provides universal order management for processing orders in real time from all the sales channels with full visibility to the business for the clients. DNA generates incremental revenues and helps build a brand for our clients by providing comprehensive e-commerce and online marketing services.