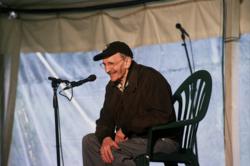 Newark, NJ (PRWEB) March 08, 2012
The Geraldine R. Dodge Foundation, in collaboration with the New Jersey Performing Arts Center (NJPAC) and the City of Newark, has announced the return of the Geraldine R. Dodge Poetry Festival to Newark from October 11 through October 14, 2012. Current U.S. Poet Laureate Philip Levine, four-time National Grand Slam Champion Patricia Smith, Pulitzer Prize-winner Natasha Trethewey, poet-musician Kurtis Lamkin, and Eavan Boland, making her Dodge Poetry Festival debut and widely regarded as Ireland's greatest living woman poet, are among the dozens of poets who will participate in the 2012 Festival. With NJPAC at its center, the Festival's readings, performances, and conversations will take place in a "Poetry Village" encompassing various venues and cultural destinations in Newark, New Jersey, all within easy walking distance of NJPAC.
The largest poetry event in North America, the four-day Festival is a celebration of poetry as an oral/aural art and is known for the diversity and range of the poets it presents, including a remarkable roster of widely-published and award-winning writers, Nobel Laureates, individual state and U.S. Poets Laureate, and Pulitzer Prize winners. Since its inception in 1986, the biennial Festival has welcomed more than 500 poets and attracted more than 155,000 people from 43 states.
The full roster of nearly five dozen poets will be announced on April 10, 2012 during National Poetry Month.
"We were elated by the overwhelmingly positive response to the move to Newark in 2010," said Martin Farawell, Festival Director. "People loved discovering the beautiful performance spaces in NJPAC, First Peddie Baptist Memorial Church, and Trinity & St. Philips Cathedral, and learning about the downtown museums and art galleries. We're very excited to return. The Festival has always introduced a diverse range of voices to our audience. Newark gives us the chance to introduce those poets to an even wider audience. And we get to do it while playing a small part in Newark's renaissance. This is cause for celebration: proof that poetry really can have an impact on people's lives, on the life of America's third oldest city."
Newark is New Jersey's largest city, and is home to six major colleges and universities as well as more than a dozen cultural institutions and galleries in its vibrant downtown arts district. With NJPAC as the hub of the Festival's activity, The Newark Museum, the New Jersey Historical Society, and the Aljira Center for Contemporary Art will serve as satellite locations for readings and events, with additional venues to be announced in April. Known for its tremendous ethnic and cultural diversity, downtown Newark is located three miles from Newark Liberty International Airport, one of the largest international airports in the United States. Downtown Newark is easily accessible by public transportation via Amtrak, New Jersey Transit, and PATH trains, and is located at the center of the New York metropolitan area.
"We are delighted to join with the Dodge Foundation and the City of Newark in hosting the Geraldine R. Dodge Poetry Festival for the second time," said John Schreiber, President and CEO, NJPAC. "Two years ago, on four glorious days in October, the power and the poignancy of the world's greatest poets captivated a city. There was an incredible vibe and a great sense of community. This year's Festival promises to build on that success. We can't wait to welcome back the many thousands of visitors to share in this celebration and experience Newark's abundant cultural resources."
"We are proud to welcome the Dodge Poetry Festival back to Newark," said Newark's Mayor, Cory A. Booker. "The festival attracts visitors and participants from across the globe who will have the opportunity to explore and contribute to the rich cultural diversity of our city. Newark has a long history of producing literary giants like Stephen Crane, Philip Roth and Amiri Baraka, and the festival continues our city's literary tradition/history."
Describing the overall spirit and energy of the Festival, poet-musician Kurtis Lamkin, who last participated in 2006 and is returning this October, once said, "They call it a 'Festival, ' but it's more like a carnival…and you're the ride!" The Festival has been called "poetry heaven" by former U.S. Poet Laureate Robert Hass, "a new Woodstock" by the Christian Science Monitor and "Wordstock" by The New York Times.
About the Geraldine R. Dodge Poetry Festival
The Geraldine R. Dodge Poetry Festival, an initiative of the Geraldine R. Dodge Foundation held biennially in even-numbered years since 1986, is a celebration of poetry that immerses participants in four days of readings, performances, and conversations. Prior to its move to NJPAC and Newark in 2010, the Festival was held primarily at Waterloo Village in Stanhope, New Jersey. In its 24-year history, the Dodge Poetry Festival has involved more than 500 poets, including Nobel Laureates, Pulitzer Prize winners, and an unparalleled array of much-published and award-winning poets.
All four days of the Festival are open to the general public. At times during the Festival, ten or more separate stages, all within easy walking distance of NJPAC, will offer events simultaneously for audiences of from 100 to 2,000 people.
The Dodge Poetry Festival was the first large-scale event to put poetry itself at its center and to invite poets and audiences from a wide base of the culture. Poets who have participated in the Festival have included Nobel Laureates Octavio Paz and Derek Walcott as well as U.S. Poets Laureate Billy Collins, Rita Dove, Donald Hall, Robert Hass, Ted Kooser, Maxine Kumin, Stanley Kunitz, W.S. Merwin, Robert Pinsky, Charles Simic and Mark Strand. Gwendolyn Brooks, Stephen Dunn, Jorie Graham, Galway Kinnell, Carolyn Kizer, Yusef Komunyakaa, W.S. Merwin, Mary Oliver, Richard Wilbur, C.K. Williams and Franz Wright are among the Pulitzer Prize winners who have been featured at past Festivals. The remarkable diversity of voices and styles have also included Jimmy Santiago Baca, Lucille Clifton, Mark Doty, Li-Young Lee and Sekou Sundiata, all of whom found a much larger national audience largely as a direct result of their participation in the Dodge Poetry Festival.
The Geraldine R. Dodge Foundation's Poetry Program operates throughout the school year, sending poets to classrooms across New Jersey and offering poetry discussion groups for teachers. During each Festival, thousands of students and teachers explore the intimate connection between poets and poetry and develop a greater understanding of the art form and of the power of self-expression by hearing poetry performed by its creators. Over the years the Festival has welcomed more than 45,000 high school students, all of whom attend free of charge, from as far away as Florida, Maine, Minnesota, and California. More than 18,000 teachers have participated in special programs offered at the Festival and have had the opportunity to receive professional development credits.
The Dodge Poetry Festival has been featured extensively in five PBS television series, including Bill Moyers' Emmy-winning, multi-part series The Language of Life and Fooling with Words. Excerpts of readings from the Festival are routinely aired on PBS through the series Poetry Everywhere with Garrison Keillor. More information about the Festival can be found at http://www.dodgepoetry.org
About the Geraldine R. Dodge Foundation
Through the foresight and generosity of Geraldine Rockefeller Dodge, the foundation bearing her name was created in 1974. For more than 30 years, the Geraldine R. Dodge Foundation has nurtured people, ideas, and institutions which transcend self-interest and contribute to a sustainable human society and the environment which shelters it. The mission of the Geraldine R. Dodge Foundation is to support and encourage those educational, cultural, social and environmental values that contribute to making our society more humane and our world more livable. Christopher Daggett has been the Foundation's President and CEO since 2010.
About New Jersey Performing Arts Center
The New Jersey Performing Arts Center (NJPAC) is the artistic, cultural, educational, and civic center of New Jersey -- where great performances and events enhance and transform lives every day. The largest cultural venue for performing arts in the state of New Jersey, NJPAC annually presents more than 350 concerts, plays, recitals, spoken word, and cultural events. The performance home of the critically acclaimed New Jersey Symphony Orchestra, NJPAC regularly welcomes the world's foremost performers in every genre, from Itzhak Perlman, Tony Bennett, and Yo-Yo Ma, to Paul Simon, Youssou N'Dour, and ZZ Top; from Alvin Ailey American Dance Theater and the Bill T. Jones/Arnie Zane Dance Company to the National Song and Dance Company of Mozambique.
Located in the heart of an emerging downtown Newark, NJPAC has been widely cited as a catalyst in the revitalization of New Jersey's largest city, attracting more than seven million visitors since it opened in 1997. NJPAC's arts education initiatives have reached more than a million Newark and New Jersey children with innovative programs including the Wells Fargo Jazz for Teens, The Star-Ledger Scholarship for the Performing Arts, The Young Artist Institute, and the Verizon Passport to Culture SchoolTime and FamilyTime Series. NJPAC also offers in-school residencies in dance, theater, music and the literary arts.
The cornerstone of Newark's cultural community, NJPAC's free outdoor summer music series, Sounds of the City, is an annual highly anticipated event, attracting between 2,000 and 3,000 people to the three-acre Theater Square on Thursday nights during the summer months. To learn more, visit http://www.njpac.org
Tickets for the 2012 Geraldine R. Dodge Poetry Festival will go on sale in April and there will be
discounted tickets for seniors, students, and Newark residents. Thousands of pre-registered teachers and high school students will attend for free. Visit http://www.dodgepoetry.org to join the Festival's mailing list and be informed of ticket information and the complete Festival program in April.
Contact:
Resnicow Schroeder Associates
Julia Kirchhausen, jkirchhausen(at)resnicowschroeder(dot)com or 212-671-5161
Aga Sablinska, asablinska(at)resnicowschroeder(dot)com or 212-671-5177
New Jersey Performing Arts Center
Joshua Balber, jbalber(at)njpac(dot)org or 973-353-8051
Geraldine R. Dodge Foundation
David Mayhew, david(at)davidmayhew(dot)net or 203-533-5621