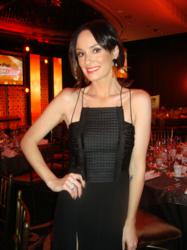 Boston, MA (PRWEB) March 08, 2012
Hearts On Fire, The World's Most Perfectly Cut Diamond®, added extra sparkle to the 2012 Cosmopolitan's Fun Fearless Awards on Monday, March 5th at the Mandarin Oriental in NYC in the form of diamond earrings, rings and bracelets worn by nominees. Celebrities such as Rose Byrne, Lucy Hale, Liam Hemsworth, Jonah Hill, Adrian Peterson, Freida Pinto, Paul Rudd, Dakota Fanning, Blake Shelton and Jesse Williams were all honored with the titles of Cosmo's 2012 Fun and Fearless! All of the honorees had the opportunity to get decked out in stunning diamond earrings, necklaces and rings provided by Hearts On Fire.
Reigning 2011 Country Music Award Female Vocalist of the Year, Miranda Lambert, accompanied honoree and husband 2011 Male Vocalist of the Year, Blake Shelton, to Cosmo's biggest, most star-studded event. Lambert donned 7.5 ctw earrings by Hearts On Fire.
The stunning Catt Sadler of E! News hosted the event alongside co-anchor Jason Kennedy and added some Hearts On Fire stackable bands to her beautiful long black gown.
Donna Lagani, Publisher of Cosmopolitan Magazine was decked out in over 73 carats worth of Hearts On Fire diamonds. She rocked the red carpet with the Sculptural Cuff and Musing Earrings.
"Fun and Fearless are definitely two adjectives that describe the Hearts On Fire brand so we were thrilled to be a part of the Cosmo festivities Monday night! Catt, Miranda, and Donna all looked stunning and we were so excited these fun fearless females rocked some Hearts On Fire diamond bling" said Hearts On Fire Publicity Manager, Trisha Spillane
To learn more about the Cosmopolitan Magazine Fun and Fearless Awards, please visit http://www.cosmopolitan.com/celebrity/exclusive/fun-fearless-awards-2012?click=main_sr
About Hearts On Fire Company
The Hearts On Fire Company (HOF) is successfully building the pre-eminent consumer brand in luxury diamond jewelry, powered by the pulsating energy of its extraordinary diamonds. Founded in 1996 by Glenn and Susan Rothman, Hearts On Fire has established a new industry standard for diamond cutting perfection, enabling the Company to become the world's fastest growing diamond brand. Hearts On Fire continues to redefine the industry through its extraordinary diamond earrings, necklaces and solitaire rings and game changing marketing, technology, and training programs. Hearts On Fire, The World's Most Perfectly Cut Diamond®, is a global jewelry brand sold in over 650 retail locations in North America, United Kingdom, Australia, Asia, and the Caribbean. For a unique brand experience, please visit http://www.heartsonfire.com.