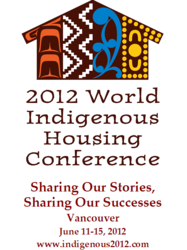 Indigenous housing in Canada and around the world is facing a crisis: mold, poor structure, over-crowding, insufficient inspections. This is how people are living. You know, enough is enough. We need to do something about this.
Vancouver, Canada (PRWEB) March 22, 2012
The Aboriginal Housing Management Association (AHMA), the recognized leader in Canadian Indigenous housing is hosting the first World Indigenous Housing Conference http://www.indigenous2012.com, June 11-15, 2012, in Vancouver, British Columbia, Canada. Well known TV host, housing expert, and philanthropist, Mike Holmes will give the keynote Conference address. Mr. Holmes is the creator and star of Holmes on Homes ®, the #1 show on HGTV Canada, which is syndicated in the United States, Australia, New Zealand, United Kingdom, Germany and South Africa. As a professional contractor, Mike Holmes uncovers and fixes sloppy, dangerous renovations in his award-winning television series. The AHMA mission is to set the benchmark for devolving government responsibilities to Indigenous management. This International Conference will bring together Indigenous housing leaders, senior government officials, researchers and corporate heads from around the world to learn and share from best practices, contribute to building a global Indigenous network, and showcase Indigenous cultures.
According to Mike Holmes "Indigenous housing in Canada and around the World is facing a crisis: mold, poor structure, over-crowding, insufficient inspections. This is how people are living. You know, enough is enough. We need to do something about this." We are meeting the Indigenous housing providers, government leaders, and First Nations Chiefs from around the World. Everyone is bringing to the table which each of us know, so we can make it right together. We will be talking about developing housing that is more appropriate for climate and culture, housing that is more energy-efficient, housing that is more durable, and implementing projects that bring affordable housing to a higher standard. Mr. Holmes http://makeitright.ca, will also lead a workshop at the Conference covering such topics as rebuilding devastated communities strategies, and building the social, financial and technical capacity to respond to natural disasters like earthquakes, hurricanes, forest fires and flooding. The session will also cover how to bring forces together to achieve effective local capabilities.
Mr. Holmes is a partner with the National Chief, Shawn Atleo of the Assembly of the First Nations in Canada. They are working on the Building Homes and Building Skills Project, one of the most important First Nations community projects in Canada. Together they are redefining inspections and building standards for the First Nations communities, and they are doing these using sustainable, green practices while teaching the community how to properly build and maintain their homes and better improve family health benefits. The project will build better infrastructure and create opportunities for First Nations to work with industry leaders. Mr. Holmes will be talking about this project and other initiatives in a workshop at the Conference http://www.indigenous2012.com.
As a Conference attendee, you will have the opportunity to meet senior government leaders and exchange ideas on how to advance Indigenous housing. You will be enabled to interact with Housing managers who will share a spectrum of achievements in governance and capacity building. Indigenous leaders will reveal best practices. Policymakers will explain ways to ensure sustainable solutions and infrastructure. You can build powerful connections with this influential arena of leaders from Canada, the United States, Australia and New Zealand, and other developed countries that share common Indigenous housing experiences. Stimulating speakers http://www.indigenous2012.com/photos/Speaker_brochure-proof5.pdf, workshops and presentations will explore five key themes: Sharing Our Stories, Governance and Capacity Building, Government Partnerships, Housing as a Determinant of Health, and Disaster Preparedness. You will have the opportunity to share expertise and build powerful connections with this influential executive group.
A rich cultural exchange, with vibrant traditional and contemporary Indigenous entertainment, is part of the Conference Experience. The 2012 WIHC Conference Headline performer is Global star Gurrumul, called Australia's Most Important Voice on the cover of Rolling Stone magazine. Born blind, Gurrumul grew up as a member of the Gumatj clan on Elcho Island, Northern Territory, Australia. Gurrumul is changing the way national and international audiences experience his Yolngu culture, through an accessible Western music style. He sings about identity, spirit and connection with the land and ancestral beings he is related to.
Gurrumul's debut album Gurrumul received international acclaim. Listeners connected with his angelic, high tenor voice, including Elton John, will.I.am and Sting, who are big fans. The debut sold half a million copies worldwide, reaching Triple Platinum in Australia, and won Best World Music Album at the 2008 ARIA Artisan Awards (Australian Recording Industry Association). His second solo album, Rralaka, won the 2011 ARIA Best World Music Album. Also in 2011, Gurrumul was chosen to perform for HRH the Queen of England, United States President Barack Obama, and Crown Prince Frederik and Princess Mary of Denmark, confirming this talented musician's place as an international sensation, capable of transcending cultural boundaries.
Jana Mashonee is Lumbee/Tuscarora, a singer, songwriter, actress and author, who has been nominated for two GRAMMY awards and won eight Native American Music Awards. She has released four albums; all are commercial and critical successes. Jana Mashonee stars in the soon to be released motion picture, Raptor Ranch, and her first book, American Indian Story – The Adventures of Sha'kona, is a cornerstone of her Jana's Kids Foundation Reading for Life program.
Pamyua brings Inuit music and culture to the world, showcasing drum-songs from Greenland and Alaska. Pamyua vocalists Phillip Blanchett, Stephen Blanchett, Ossie Kairaiuak and Karina Moeller bring "a blizzard of interlocking harmonies," together, according to Native People Magazine. Pamyua reminds listeners to embrace relationships with honor, humility and tolerance. Their performances—a fusion of traditional Inuit music and Yup'ik dance—encourage audiences to appreciate Indigenous traditions, while infusing traditional wisdom into modern culture.
Conference registrations are still available on a first come basis only. For Registration information go to: http://www.indigenous2012.com/registration.php