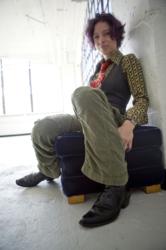 Napa, Ca (PRWEB) March 08, 2012
She's "fixed up a few old buildings" and minimized her carbon footprint before it was trendy – from installing a geothermal heating and cooling system in the renovated church that her label calls home to using organic inks on all the t-shirts she sells. But nothing she's done in her 18-year career has garnered more attention than a business decision. Since Ani bucked the major label system in the early-'90s, opting to release her music on her own terms, the self-described Little Folksinger has been the subject of all kinds of hyperbole. Don't miss Ani DiFranco plus Seth Glier on Thursday, March 29, 2012 at the Uptown Theatre. Doors open at 7:00pm, show starts at 8:00 pm.
She's been called "fiercely independent" (Rolling Stone), "inspirational" (All Music Guide), "the ultimate do-it-yourself songwriter" (The New York Times), etc. As the cracks in the music industry get larger and more big-name artists follow Ani's lead – Radiohead, Madonna and Nine Inch Nails among them – maybe people will just start calling her "smart."
Tickets for Ani DiFranco plus Seth Glier are $47.50. They are on sale now and can be purchased through the theatre website at http://www.uptowntheatrenapa.com, at Ticketmaster (http://www.ticketmaster.com) or at the theatre box office (please call 707.259.0123 ext. 6 for hours). To find out more, please visit http://www.uptowntheatrenapa.com.
###