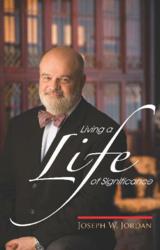 This book is a must-read for every financial services professional.
Bryn Mawr, PA (PRWEB) March 10, 2012
"Living a Life of Significance" is a new book by Joseph W. Jordan, senior vice president, Behavioral Finance Strategies, MetLife, which describes the author's personal journey of discovery as a financial services professional. Jordan will share excerpts of his book and talk about his passion for helping others achieve financial security as part of a presentation entitled "Get Inspired" at the national LAMP conference sponsored by GAMA International in Orlando, on March 19, 2012.
"Being in the audience during a Joe Jordan presentation is an electrifying experience," says GAMA International CEO Jeffrey R. Hughes. "Joe's ability to engage fellow professionals is truly inspiring. He has always been one of LAMP's most dynamic and popular speakers, packing the room with an enthusiastic crowd."
After reading "Living a Life of Significance," American College President and Chief Executive Officer Larry Barton stated: "This book is a must-read for every financial services professional. "Living a Life of Significance" provided me with a renewed appreciation for the dedicated men and women of our industry who create financial security and protect families' dreams."
All LAMP '12 attendees will have the opportunity to purchase a copy of Jordan's book and a DVD featuring his presentations from two previous LAMP conferences. (A Spanish-language version of "Living a Life of Significance" will also be available.) Proceeds from the DVD and book sales benefit GAMA and The American College, both non-profit organizations.
There will be three opportunities for LAMP '12 attendees to purchase books and DVDs and to have their copies of "Living a Life of Significance" signed by Joe Jordan. On Monday, March 19, Jordan will be at the GAMA Satellite Bookstore outside of the general session between 11:30 a.m. and 12 noon. Later that day, from 1:00 p.m. to 1:30 p.m., he will be signing copies of his book at The American College's booth (#206) in the Resource Center. The following day, from 1:00 p.m. to 1:30 p.m., Jordan will be signing books at the GAMA Galleria (booth #307).
Jordan is an industry-renowned thought leader and celebrated speaker in the areas of behavioral finance, client-centric tools, ethical selling and client advocacy. He helps financial professionals around the world recognize and celebrate the intrinsic value that they deliver to their clients. Jordan started his career with Home Life in 1974, and was named "Rookie of the Year" and became a member of the Million Dollar Round Table (MDRT) the following year. He ran insurance sales at Paine Webber from 1981 to 1988. He joined MetLife in 1988 to manage annuity, and later life, sales and product development. He is currently responsible for MetLife's Behavioral Finance Strategies.
This is the first book written for The American College Press by an industry professional outside of the institution's own faculty members. The book's inspirational message was one of the important factors that led to its publication.
Individuals who cannot attend LAMP '12 will be able to order a copy of the book for $14.99, plus shipping, by contacting The American College Alumni Association at 610-526-1477 or Alumni(at)TheAmericanCollege(dot)edu.
MetLife, Inc., is a leading global provider of insurance, annuities and employee benefit programs, serving 90 million customers in more than 60 countries. Through its subsidiaries and affiliates, MetLife holds leading market positions in the United States, Japan, Latin America, Asia Pacific, Europe and the Middle East. For more information, visit http://www.metlife.com.
The American College is the nation's largest non-profit educational institution devoted to financial services. Holding the highest level of academic accreditation, The College has served as a valued business partner to banks, brokerage firms, insurance companies and others for over 85 years. The American College's faculty represents some of the financial services industry's foremost thought leaders. For more information, visit http://www.TheAmericanCollege.edu
GAMA International is a worldwide association serving the professional development needs of 5,500 field leaders in the insurance, investment and financial services industry. Its members recognize their critical role in finding, building and inspiring the next generation of top performers who will, in their turn, lead the industry into the future. To help build these leaders, GAMA provides its members with educational, networking and leadership resources and opportunities. GAMA International's website is located at http://www.gamaweb.com.