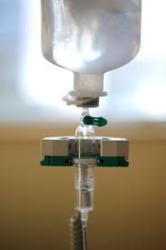 1,000 cases of hepatitis C could have been linked to use of Gammagard
San Diego, CA (PRWEB) March 12, 2012
The media spotlight is often a double-edged sword. No one knows this better than people who tried Gammagard and experience severe side effects. And yet, gossip and rumor-mongering aside, the real story here is being overlooked according to Sean Burke of AttorneyOne.
As announced on Jan. 9th, 2012, Baxter International Inc. submitted a supplemental biologics license application (sBLA) to the U.S. Food and Drug Administration (FDA) for approval of GAMMAGARD LIQUID 10% (Immune Globulin Infusion) for the treatment of multifocal motor neuropathy (MMN). The product, marketed as KIOVIG outside the United States and Canada, was approved for the MMN indication in Europe in 2011.
The filing is based on a Phase III, randomized, double-blind, placebo-controlled, cross-over, multi-center study of the efficacy, safety, and tolerability of Gammagard Liquid 10% in a total of 44 MMN patients.
At the end of February 1994, Baxter Healthcare announced the removal of Gammagard from the global market because of the possibility that it may have transmitted the hepatitis virus, including hepatitis C. In July 1995, the FDA said that as many as 1,000 cases of hepatitis C could have been linked to use of Gammagard.
In September 2000, the U.S.D.C. for the Central District of California approved a settlement of the class action (MDL NO. 95-1060-R) providing financial compensation for U.S. individuals who used Gammagard between January 1993 and February 1994. Plaintiffs accused Baxter for negligence, strict liability, breach of implied and express warranty, fraud, misrepresentation, and infliction of emotional distress. According to the settlement, the number of patients receiving Gammagard during this period is not known but is estimated to be several thousand.
AttorneyOne.com, a recognized authority on law, can provide helpful advice and simple solutions including how to get in contact with legal counsel so that, in case of Gammagard Side Effects, someone can easily and inexpensively deal with it. As Mr. Burke, director of Media Relations for AttorneyOne.com, added, "What all this information really illustrates is that threat of severe side effects from Gammagard remains. For that reason, our focus should squarely fall on getting the word out and assisting people in finding the right legal assistance."
On January 15th, 2010, the US Food and Drug Administration issued a warning to Baxter citing significant deviations from good manufacturing practices (cGMP) in the manufacture of Gammagard liquid and Gammagard S/D intermediates at its manufacturing facility in Belgium.
If you have recently been diagnosed with Hepatitis C and you took Gammagard, you might be able to file a Gammagard Side Effects lawsuit.
AttorneyOne.com has further information on Gammagard lawsuits including how to get in contact with legal counsel.
Headquartered in San Diego, CA Attorney One was founded in 2004 and is not a law firm. They offer a nationwide legal service which helps consumers find the best representation for their legal needs. Checkout earlier legal news from us at http://www.prweb.com/releases/2012/3/prweb9256792.htm.