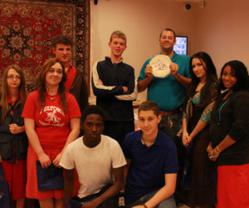 Students were impressed by the collectebility aspect of precious metals investing.
Lutz, FL (PRWEB) March 08, 2012
Gainesville Coins again demonstrated its commitment to community involvement by hosting a number of high school students from the Faith Baptist Church of Deltona at their showroom in Lutz, Florida today. The 16 students are all currently taking an introductory economics class, and the school's Principal Phillip Herchenroder, organized the trip to supplement their studies on monetary systems.
Luis, one of Gainesville Coins' senior account executives, led the tour, providing a brief overview on the current state of the precious metals market, and relaying a series of fun facts to help their understanding of gold and silver's historical role as a currency.
Among the highlights of Luis' presentation include:

The world "silver" occurs 320 times in the Bible, and "gold" occurs 417 times.
The modern global financial system is based on "fiat currency," or paper currency not exchangeable, or tied to precious metals.
Before 1934, Federal Reserve Notes were exchangeable for gold at an exchange rate of 1 oz for every $20 dollars. The Federal Reserve was required to hold physical gold reserves worth 40% of all Federal Reserve Notes in circulation.
The students were given a full tour of the Gainesville Coins' showroom where a large inventory of silver and gold coins and bars are available for sale. Of particular interest to the students was the 10 Kilo Silver Tiger Coin from Australia's Perth Mint that is currently on display in the Gainesville Coins' showroom. With a diameter of just 221 mm and thickness of 33 mm, the 10 Kilo Tiger Silver Coin is worth about $11,000 based on the current spot silver price of $34 per troy ounce.
The students were surprised to learn that many precious metal coins also develop a collectability value. While most gold and silver bars and coins purchased today are done purely for their precious metal content, there are a wide range of gold and silver coins that develop a substantial premium over spot based on collector interest.
As a parting gift, Gainesville Coins provided each of the students a 2012 1 oz Silver Eagle Coin, the official U.S. silver bullion coin.