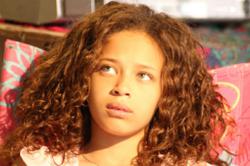 New York, New York (PRWEB) March 08, 2012
A little girl tries to change the color of her skin in response to bullying in a new short film released in honor of International Women's Day. The new film "Clara Like Water" reminds us that girls and women have not come as far as we might have hoped. Written and directed by Fernanda Rossi, it is the coming of age story of a mixed race little girl where fiction sadly imitates reality
The film was released this week on PBS' first Film Festival which runs online worldwide until March 30 in the Category: Growing Pains.
Fernanda Rossi, writer/director of Clara explores a painful and topical subject: "Bullying happens in so many subtle ways and it doesn't stop when we grow up, it just takes new forms. Childhood is the best time to re-assert that behavior, both for those who bully and those who are being bullied."
Clara tells the story of the only light-skinned and clear-eyed girl in an all black neighborhood. The children tease her endlessly, telling her that her father is some white man her mother had an affair with. Her grandmother tells her a different story. She claims Clara's mother bathed in the bioluminescent bay while pregnant, giving Clara not only her olive skin tone but also her name, Clara, or, clear. Tired of the harassment and contradicting stories, Clara ventures into the far away bay on her own to change her life, but in a way she doesn't expect.
"Ultimately I hope this film and the trilogy as a whole helps children and the adults in their lives have a conversation about respecting our differences," says Rossi. The Trilogy of Empowerment features girls at 10, 15 and 20 of different races dealing each with their rite of passage.
Film rights and licensing are available. For an interview with Fernanda Rossi, please email: clara(at)fernanda-rossi(dot)com.