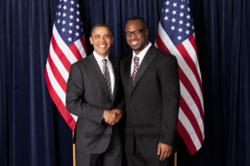 "In my neighborhood you didn't choose art, it was sports, basketball, football or being out on the streets selling drugs," states Vernon Davis.
San Francisco, California (PRWEB) March 12, 2012
The Vernon and Vontae Davis Family Foundation will collaborate with the A.R.T. Ambassador Youth Program and the Children's AIDS Art Programme to present an exquisite evening to benefit the arts on Saturday, March 31st,2012. The event will take place at San Francisco's historic landmark, the HamlinMansion. The gorgeous wood-paneled mansion built in the early 1900s is located at 2120 Broadway Street and boasts incredible views of the bay from the city's Pacific Heights neighborhood. The event is scheduled from 7 – 10PM.
VIP guests will mingle and enjoy libations from 6PM to 7PM at an exclusive reception hosted by San Francisco 49er Vernon Davis and Miami Dolphin Vontae Davis over classical music played on a grand piano by Michael Blankenship only to be led into a captivating Pas de trois performance featuring French dancer Caroline Rocher from Lines Ballet. A spiritual rendition of hope and change will follow by Leah Tysse from Glide Memorial preparing attendees for a tantalizing celebrity fashion show featuring designers Piece-Piece, Daniel Sudar and Paloma Von Broadley and selected models from the 49ers such as: Chris Culliver,Josh Morgan, Navarro Bowman, Parys Haralson and joined by former Oakland Raider, John Bowie. JE Talent's Phillip Grum will lend his international experiences as a model to serve as the show's master.
Chairman of the Board, Vernon Davis, will introduce the participating nonprofits,Children's AIDS Art Programme, a South Africa-based organization that rendersart therapy to children affected by the AIDS epidemic; and the A.R.T.Ambassador Youth Program, a 12-week program that uses classes, workshops, andevents to enhance the life skills and creative strengths of youth from across SanFrancisco. Davis will also announce this year's ten finalists for the VernonDavis Visual Arts Scholarship.
A plethora ofauction items will prompt supporters and change agents for the arts communityto give. Featured items include a 2 night stay at St. Helena's Meadowood Hoteland Resort with a Fisker Karma, Cirrus Aviation package, and weekend journey ina Maserati. A signature Davis Family Foundation bottle of wine sponsored byClubspot Beverage Company will be given to each guest along with passed delectables.Wine and cocktails over light music will end the occasion.
"In myneighborhood you didn't choose art, it was sports, basketball, football orbeing out on the streets selling drugs," Davis recalls, "So I had to wait untilI got to college before I felt free enough to explore my interests in art. I don't want kids to go through that if it'stheir passion."
The Vernon andVontae Davis Family Foundation benefits community organizations that are close to the brothers' hearts. They include the arts, mothers and fathers battling addiction, and various causes dedicated to helping children understand the importance of leading healthy and active lifestyles.
For media and ticket information, please visit the Vernon and Vontae Davis Family Foundation at davisfamilyfoundation.org
Contact:
TheodorePalmer, Event Publicist
Creative EdgePublic Relations
creativeedgepr(at)gmail(dot)com
646.575.2967