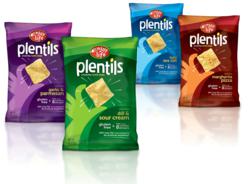 Enjoy Life Foods has been at the forefront of creating delicious allergy-friendly and gluten-free products and we continue to lead the category in innovation and taste.
ANAHEIM, CA (PRWEB) March 09, 2012
Enjoy Life Foods is thrilled to announce its newest snack in a long line of great-tasting foods that are both allergy-friendly and gluten-free: meet Plentils, the lentil-based chip with a satisfying crunch and available in four all-natural dairy-free flavors: Light Sea Salt, Margherita Pizza, Garlic & Parmesan, and Dill & Sour Cream. At 130 calories and three grams of protein per serving, the chips are a "better-for-you" snack for people looking to enjoy a non-guilty pleasure.
"We are excited to introduce Plentils at the largest natural food event in North America," said Joel Warady, Chief Sales & Marketing Officer. "Enjoy Life Foods has been at the forefront of creating delicious allergy-friendly and gluten-free products and we continue to lead the category in innovation and taste." Enjoy Life, always on the cusp of trends, can attest to the fact that the fastest growing category in snacks is healthy eating, making Plentils a perfect fit for this high-growth category.
The creation of Plentils was two years in the making, as it is the only lentil chip-based snack that is both gluten-free and free of the eight common allergens; that means NO wheat/gluten, dairy, peanuts, tree nuts, egg, soy, fish or shellfish—the allergens that account for 90% of all food allergic reactions in the United States. Enjoy Life products are also made without casein, sesame and sulfites. Their products are created in a dedicated nut- and certified gluten-free facility ensuring that all families can safely enjoy any of their snacks.
Superfoods are all the rage these days, and expect to hear lentils joining that category of glorified foods. Consumed since prehistoric times, the legume is extremely rich in a variety of vitamins and minerals, making it an excellent source of nutrients. The legume is a staple in diets throughout the world, particularly in Asian and Mediterranean regions, but leave it to Enjoy Life to capture the essence of its all-natural goodness in a great-tasting chip that everyone can enjoy.
The chip's unique recipe results in a protein-packed, crunchy experience, perfect alone or as a scoop for dips. With 40% less fat than the leading potato chip, Plentils is one snack you can enjoy guilt-free. With all-natural, non-GMO ingredients, it's no wonder they call it the "chip with benefits."
Enjoy Life Foods began as a class assignment; Company founder Scott Mandell wrote the company's business plan during his MBA program at Northwestern University's Kellogg School of Management. In 2001, Scott traded in his banker's suit for an apron, and Enjoy Life Foods was born. He began with the mission to create great-tasting, allergy-friendly snacks, and today the product line has grown to 40 different foods including cookies, granola, cereal, snack bars, seed and fruit mixes, chocolate bars, baking chocolate, and healthy lentil-based chips, all of which are sold in natural food, conventional grocery stores, and mass retailers throughout the U.S. and Canada, as well as specialty online retailers. In January 2006, the company was the first to receive independent gluten-free certification for all of its products from the Gluten Free Certification Organization (GFCO). Visit them online at http://www.enjoylifefoods.com, "like" them at facebook.com/enjoylifefoods or follow them on Twitter at twitter.com/ELFCeo. Visit their Media Center for additional marketing materials. Samples available upon request.
***
MEDIA CONTACT:
BREAD & BUTTER PUBLIC RELATIONS
Lindsey Reynolds
512.818.1052
lindsey(at)breadandbutterpr(dot)com