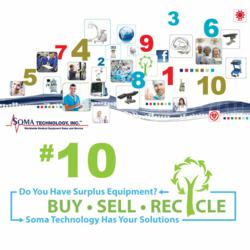 "We consider every avenue to save from the landfill any material that could benefit someone," says Ben Quick, manager of procurement.
Bloomfield, CT (PRWEB) March 13, 2012
Reason #10, for example, refers to "green business practices," which Soma embodied long before it was hip to be green. Two young biomedical entrepreneurs identified a market need for high-quality medical equipment that was easy to afford and supplied by a local company. The two set out to refurbish surplus hospital equipment and then resell it at a reasonable price. Since then, Soma has had its greatest environmental impact through the collection of equipment from hospitals. Soma offers a valuable service because hospitals are in the business of patient care, not medical equipment resale or disposal. When a hospital has surplus equipment and no options for disposal, it must destroy the equipment and consign it to a landfill. "Every year, hospitals in America throw away thousands of tons of usable medical supplies and equipment — by some measures 7,000 tons a year, a value of $20 billion," reported the New York Times ("Salvaging Medical Cast-Offs to Save Lives," August 4, 2011).
The responsible disposal of unmarketable equipment is the second-largest way Soma's business impacts the environment. "We consider every avenue to save from the landfill any material that could benefit someone," says Ben Quick, manager of procurement. "Donation, export, disassembly for parts, and harvesting valued components are all possibilities we exhaust before we throw anything away." Managing the logistics of medical equipment removal is a vital service. As a result of Soma's efforts, the company can continue to grow, hospitals can focus on patient care, and equipment stays out of landfills.
Soma Technology, Inc., has become a leader in the secondary medical equipment market because of its commitment to the highest quality standards, ethics, and professionalism in its refurbishing processes. This commitment has earned the company membership with IAMERS, the International Association of Medical Remarketers and Servicers. Because of Soma Technology's dedication and track record, companies that provide surplus equipment can rest assured that their equipment will be handled not only responsibly, by a team of dedicated professionals, but also with the environment's interests in mind.
Now, hospitals and surgery centers looking to sell or trade anything from anesthesia machines to X-ray machines have 10 great reasons to sell to Soma Technology, Inc. For more information, contact Ben Quick, manager of procurement, by phone at 860-578-1050 or by email at buyer(at)somatechnology(dot)com.
To learn more about the Soma's top ten reasons, click here.
To learn more about the standards and ethical practices required for IAMERS membership, click here.
About Soma Technology, Inc.
For 20 years, Soma Technology, Inc., has specialized in outfitting healthcare facilities with quality new and refurbished medical equipment. Soma Technology has become a market leader because of its commitment to industry advancements and its efforts to maintain the highest level of customer satisfaction. Soma is always in the market to buy anesthesia machines, monitors, defibrillators, surgical tables, surgical lights, patient monitors, electrosurgical units, scalpels, tourniquets, sterilizers, c-arms, c-arm tables, portable x-ray machines, ultrasounds, heart/lung machines, ventilators, EKG machines, stress-test systems, EEG machines, infusion pumps, and so much more.