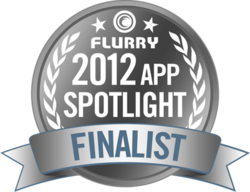 Flurry is proud to work with so many talented application developers whose innovation is truly inspirational
San Francisco, CA (PRWEB) March 08, 2012
Flurry, a company that helps developers make better apps, grow their app audience and monetize their business, today announced the top twenty finalists of its inaugural App Spotlight Awards, the top three winners of which will be announced at SXSW this weekend. Flurry Analytics™, the leading app analytics service, and Flurry AppCircle™, the leading data-driven app traffic acquisition network, have been adopted by more than 60,000 companies across more than 160,000 iOS, Android, Window Phone and HTML5 applications.
Flurry is partnered with VentureBeat at SXSW this year, to bring attention to up-and-coming apps through its Command the Spotlight contest. Flurry received over 700 application entries. Evaluated on innovation, market potential and business scalability, Flurry selected the top twenty finalists. From this group three winners will be announced at SXSW this weekend, with each starring at their own launch party hosted by Flurry at the Alcatel-Lucent Trend Lounge, located at the Downtown Austin Hilton Hotel. Winners will be interviewed by writers from VentureBeat or ReadWriteWeb, demo their product to a packed audience of industry peers and investors, and all attendees will enjoy catered food and cocktails. App Spotlight Launch parties take place for three days in a row on March 10, 11 and 12. Each starts at 4 PM and is open to all SXSW attendees.
"Flurry is proud to work with so many talented application developers whose innovation is truly inspirational," said Simon Khalaf, Flurry president and chief executive officer. "Our executive team carefully reviewed each application, selecting the top twenty apps that delivered an extra level of innovation and value to consumers. We can't wait to reveal the top three at SXSW!"
Flurry App Spotlight Finalists (in alphabetical order)

CIA: Operation Ajax by Cognito Comics
Draw Something by OMGPOP
Echoer by Echo Labs Limited
Fooducate by Fooducate
Forkly by Forkly
HotelTonight by HotelTonight
Kwarter by Kwarter
Lemon by Lemon
Mingle! by Mingle
News.me by News.me
Onefeat by Onefeat
Popcorn Horror by Popcorn Horror Ltd.
Qello by Qello
Red Stamp by Red Stamp
Scoopshot by Scoopshot
Shadow Cities by Grey Area
SideBets Social BETworking by Blue Ox Entertainment
VoicePark by VoicePark, LLC
Voxer Walkie Talkie by Voxer
Wildchords by Ovelin
About Flurry
Flurry increases the size and value of mobile application audiences, with its analytics and advertising network used in more than 160,000 applications across iOS, Android, Blackberry, Windows Phone, J2ME and HTML5 platforms. Flurry tracks over 30 billion anonymous, aggregated end-user application sessions each month across more than 500 million devices. Flurry is venture-backed by Draper Fisher Jurvetson, InterWest Partners, Union Square Ventures, Menlo Ventures and First Round Capital. The company has offices in San Francisco, New York and London.
Note to editors
iOS, iPhone, iPad, Android, Blackberry, Windows Phone, HTML5 and J2ME are trademarks of their respective companies. All other company and product names may be trademarks of the companies with which they are associated.
Media contact:
Peter Farago
VP Marketing
Flurry, Inc.
peter(at)flurry(dot)com
+1-510-461-4450
# # #