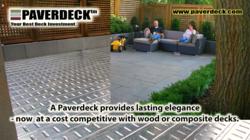 The Paverdeck system provides lasting elegance at an affordable price.
Sault Ste Marie, ON (PRWEB) March 09, 2012
The future for backyard decks has never looked better. Evolutiondeck Inc., the manufacturer of the Paverdeck system, is providing consumers an elegant maintenance-free lifetime deck option, now at a price that competes with a traditional cedar or composite deck. This new product category provides unmatched performance and looks certain to outperform wood, composite and PVC decks. The product will be showcased at the Cottage Life Show in Toronto March 30, 2012.
"The Paverdeck system is a game-changer that simply exceeds all other decking systems currently in the marketplace," said John Naccarato, president of Evolutiondeck Inc. "The galvanized steel platform is designed to last at least 60 years and supports a wide range of stone or concrete pavers, readily available at any budget. Customers want affordability and confidence in their deck investment, which drove us to develop a more affordable concrete paver deck."
"When you factor in the lifespan of the Paverdeck system, this type deck is actually less expensive than any traditional deck, and will hold its value over time because it does not need replacing," said Joe Severini, Evolutiondeck Vice President. "The Paverdeck system is made with recycled steel content, is the only deck with a zero-carbon footprint during use, and is itself 100 percent recyclable. The Paverdeck system has the potential to save millions of acres of forests and will never see a landfill or incinerator".
Concrete or stone pavers can be applied in any pattern to provide a truly distinctive look at any budget, and generally concrete pavers come with a lifetime warranty. Concrete, stone and steel are the only materials with a proven history of surviving decades of exposure to the sun and weather – note the Coliseum in Rome is over 1900 years old with walls made from stone held together with iron clamps. Backed with the industry's only 30-year structural warranty, there is not a traditional or composite/PVC deck that can outlast or outperform a Paverdeck.
Evolutiondeck Inc., an engineering company founded in 2007, has roots from the automotive and steel industries, and manufactures the Paverdeck system for custom and DIY installations. Material kits are available online or from regional dealers. For more information about the Paverdeck system, visit http://www.paverdeck.com, http://www.facebook/paverdeck, or contact mail(at)paverdeck(dot)com. Paverdeck® is a registered trademark under license to Evolutiondeck Inc.